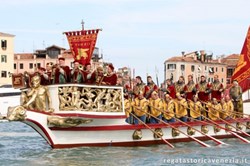 Somerville, MA (PRWEB) August 29, 2013
As the annual August vacation period for Italians winds down, festival and party time in Italy gears up. September is a beautiful month to tour the country by train. Temperatures are more comfortable and tourist crowds dissipate. Here is a rundown of the most popular festivals in Italy during September. Visit one, or take the train to attend all of them:
Regata Storica, Venice, September 1, 2013
This unique and historical gondola race has been taking place in the waters of Venice for hundreds of years. Before the races begin, there is a magnificent water pageant that features boats and gondolas of the 16th century variety. Gondoliers are dressed in colorful period costumes as the shore-bound crowds cheer them on. The boats on parade carry representatives of prominent Venetian officials in true celebration of the majesty of this venerable city. Train fares from Rome to Venice start at $72, and from Florence to Venice at $63.*
Festa della Rificolona, Florence, September 7, 2013
Also known as the Festival of Lanterns, this is one of the largest and most traditional festivals in Florence. To celebrate the eve of the birth of the Virgin Mary, locals parade on foot with mostly hand-made lanterns in a gorgeous display of lights. There is also a boat parade along the Arno River as well as a large fair that boasts street performers, delicious food and lots of fun.Train fares from Rome to Florence start at $55, from Milan to Florence at $69, and Naples to Florence at $83.*
Juliet's Birthday, Verona, September 8, 2013
Many ages ago, Shakespeare's Romeo and Juliet made Verona famous. Now, this year, on September 8th, the celebration continues. Revelers roam the streets of Verona, dressed in romantic costumes, to celebrate the heroine's birthday. Festivities include parades of the infamous Courts of Montagues and Capulets, dancing, street artists, musicians and lots of food. Train fares from Rome to Verona start at $ 104, and from MIlan to Verona at $31.*
The Festival of San Gennaro, Naples, September 19, 2013
This famous public holiday in Naples is emulated in many Italian communities throughout the US. On this day in Naples, however, the blood of Saint Gennaro, which is solidified and hermetically sealed in a tomb under Il Duomo, will supposedly liquefy signifying a prosperous year for Neapolitans. Scientists have long tried to understand the phenomenon to no serious conclusions. Festivities kick off with a morning mass at Il Duomo led by the Cardinal. Train fares from Rome to Naples start at $41, Florence to Naples at $55, and Milan to Naples at $69.*
Availability for travel on the dates of these festivals will be limited, and the stations will be busy with festival attendees, so it is recommended to book your tickets as far in advance as possible for arrival a day or two prior to the commencement of the events, and with a stay at nearby accommodations.
*Fares are samples, subject to availability and can change based on exchange rate.
About ItaliaRail: ItaliaRail are the experts on Italy train tickets and passes. In cooperation with Trenitalia, Italy's national railway, ItaliaRail provides a direct connection to Trenitalia's reservation system allowing rail travelers access to the most routes at the best prices. Travelers are able to book in multiple currencies and knowledgeable customer service agents are available to answer questions and give advice on train travel throughout Italy. ItaliaRail was launched in 2005 and is a division of International Rail, LLC.