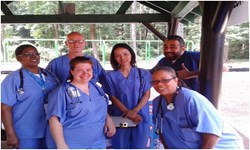 Atlanta, GA (PRWEB) August 27, 2013
Students of Anthem College-Atlanta recently volunteered at the Annual Family Fun Day benefiting the Boys Home of Positive Growth, Inc. (PGI), one of the state's premier comprehensive residential and community-based mental health service agencies dedicated to improving the lives of children, youth, adults and families during difficult life transitions.
During the event, student medical assistants offered free blood pressure screenings to families, friends and staff at the group home and helped educate them about the importance of getting blood pressure screenings.
"Routine blood pressure screenings can help detect risk factors in their earliest stages and help prevent people from developing cardiovascular disease," said Erica White, medical assistant department head at Anthem College-Atlanta. "We're happy to be able to support Positive Growth in their journey to empower some of the community's most vulnerable to become self-determined and productive individuals and most importantly, to maintain healthy lifestyles."
Anthem College students, all enrolled in healthcare-related programs, performed a total of more than 50 blood pressure screenings for those in need at this year's Family Fun Day.
"On behalf of Positive Growth, I'd like to thank the students for not only showing up but for showing out," said Positive Growth, Inc. Administrative Assistant Sheila Davis-Dockery. "Community service is so much a part of healthcare, as it helps bring peace of mind, a calm soul and a smile to one's face."
Founded in 2010, Anthem College-Atlanta holds institutional accreditation from the Accrediting Council for Independent Colleges and Schools (ACICS) to offer diploma programs in health information technology and medical assisting, and associate of applied science degree programs in dental assisting, health information technology, medical assisting and surgical technology. Specializing in healthcare, Anthem College-Atlanta features well-equipped classrooms, modern technology, and learning labs with surgical room equipment and instruments, medical equipment and computers in its 43,757-square-foot learning facility.
The campus is located at 2450 Piedmont Rd. NE between Morosgo Dr. and Main St. near the Lindbergh Center Station. For more information about programs and services offered at Anthem College-Atlanta, please call 888-852-7272. Visit Anthem.edu.