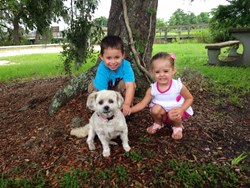 Savannah, GA (PRWEB) August 28, 2013
Hospice Savannah will be releasing a 2014 pet calendar on Sept. 4 to support the Pet Peace of Mind© program. The Pet Peace of Mind© program was launched by Hospice Savannah's homecare volunteer coordinator Christy Fulcher and in order for the program to continue, additional funds are needed. The pet calendar should help to raise those additional funds.
The Pet Peace of Mind© program allows Hospice Savannah to extend their care to the patient's pets by providing pet food, cat litter, pet walkers, routine veterinary care, grooming, transportation, foster care and assistance in finding a "forever home" if the family cannot keep the pet after the patient's death. Though many partners have discounted fees for veterinary care, grooming and food, more funding is required to keep the program alive.
The calendar features photos of those patients, pets and families that have been impacted by the Pet Peace of Mind© program as well as the Hug-a-Pet program. They say a picture is worth a thousand words, and each month in the calendar contains a touching story about how this unique program has done some extra good in a Hospice Savannah patient's life.
The 2014 Hospice Savannah Pet Calendar is on sale Sept. 4 and can be purchased for a $10 minimum donation to the Pet Peace of Mind© program. They are available during regular business hours from the reception desk at Hospice House, 1329 Eisenhower Drive and from the reception desk of Hospice Savannah's administrative offices at 1674 Chatham Parkway. They are also available at Case Veterinary Hospital, 111 Eisenhower Drive and from the Habersham Village or Pooler location of TailsSpin Pet Food and Accessories.
For more information on donating or volunteering to the Pet Peace of Mind© program, please contact Christy Fulcher at 912.355.2289 or visit http://www.HospiceSavannah.org/PetPeaceofMind Volunteers are especially needed in Bryan, Liberty, Long and Effingham counties.
About the company:
A designated agency of the United Way of the Coastal Empire, not-for-profit Hospice Savannah, Inc. is the oldest and most recognized hospice in the Coastal Empire serving over 200 patients every day in Chatham, Bryan, Effingham, Liberty and Long counties. More information can be found at http://www.HospiceSavannahHelps.org.
Hospice Savannah, Inc.provides the community with the best services and resources on living with a life limiting illness, dying, death, grief and loss. Medicare, Medicaid and most private insurance will cover Hospice Savannah's care; however, care is provided regardless of ability to pay. To start the process of receiving hospice care from Hospice Savannah at home, simply call the referral center at 912-355-2289.