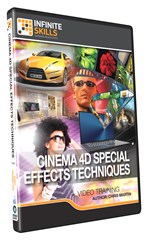 Learn Cinema 4D Special Effects Techniques at your own pace.
(PRWEB) August 29, 2013
Software training firm Infinite Skills Inc. last week introduced its "Cinema 4D Special Effects Techniques Training Video," a tightly focused course teaching a selection of high-end special effects using Cinema 4D, a leading 3D modeling program.
Cinema 4D is a powerful high-end 3D modeling, animation, and rendering application, finding wide use in graphic design, digital art, and cinematography. Among the selection of similar 3D modeling programs, Cinema 4D stands out for its relatively user-friendly workflow and the ability to integrate with Adobe After Effects.
Infinite Skills' "Cinema 4D Special Effects Techniques Tutorial" is designed for experienced users of Cinema 4D looking to master its capabilities for producing professional-level effects. The course focuses on the new capabilities for integration between Adobe After Effects and Cinema 4D, exploring how to use both programs in concert to produce video with realistic special effects.
Cinema 4D Special Effects Techniques Training Video - DVD
Course author Chris Martin is a career 3D designer and a current partner at the Houston-based multimedia company 1.618 Designs. He specializes in the creation of innovative digital content using cutting edge multimedia tools. With 1.618, Martin has designed advertising campaigns for the Houston oil and gas industry as well as other multinational companies. He is a professor at a Houston college where he teaches classes on 3D modeling, Adobe Photoshop, and Adobe Illustrator.
Here, Martin takes a few standard cinematic moments, such as blowing up an airplane and flooding a hallway, and looks at how to use combined features of Cinema 4D and Adobe After Effects to produce these effects.
The course begins by looking at the integration between Cinema 4D and After Effects, explaining the workflow and looking at the wealth of possibilities for using the two programs in concert. Martin then shows how to track footage in After Effects, using both the CS6 and CC versions, and then export to Cinema 4D to add blast effects and 2D elements before importing back into After Effects.
With the flood scene, Martin looks at working with fluid dynamics and rigid bodies to create a realistic effect using the RealFlow interface and the meshing process.
Additional chapters cover working with the green screen, where Martin covers techniques for tracking on a green screen, using the point cloud in Cinema 4D, working with Photoshop Filters, and developing a final composite in After Effects.
The course then covers the dynamics engine in Cinema 4D, looking at various tools and techniques including springs, spline dynamics, gravity, and wind turbulence, before concluding with a look at the MoGraph feature.
"I'm really excited about this course because it's a collection of my favorite special effects features," Martin says. "We're going to learn how to create physically realistic effects with minimal effort."
Free demo videos and a full list of course contents can be found on the Cinema 4D Special Effects Techniques Tutorial Video training page on the company website: http://www.infiniteskills.com/training/cinema-4d-special-effects-techniques.html/.
Infinite Skills offers the Cinema 4D Special Effects Techniques Video Tutorial either as a DVD or a direct download from the company website at a retail price of $49.95. Infinite Skills tutorials are compatible with both Mac and Windows operating systems. Shipping is available around the globe. Additionally, Infinite Skills tutorials are supported by project files which correspond to examples in the videos.
About Infinite Skills Inc.
A leader in the field of software training, Infinite Skills designs its courses on a task-oriented model, teaching complex skills by providing hands-on examples and guiding users as they carry out essential functions. Infinite Skills offers a wide range of software titles available as DVDs, digital downloads, and in iPad editions, keeping with company aim of delivering professional training to customers anywhere they want to learn.