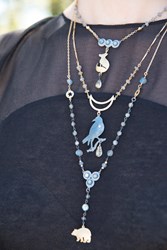 Animals have became powerful symbols for both the virtuous and malevolent way to live.
Boston, MA (PRWEB) August 28, 2013
From lucky elephants to playful butterfly jewelry, from the classic horse to the edgy wolf, The Ark Collection of handmade animal charms by Jenne Rayburn offers unique jewelry with stories of virtue and compassion, love and loss, progress and nostalgia.
Jenne Rayburn, a handcrafted jewelry and accessories designer known for distinctive handcrafted jewelry with an original vintage aesthetic, introduces her latest handmade designs for Fall 2013. New designs include Seahorses, Sea Stars, and Anchors to compliment a nautical style, and Antlers, Forest Birds and Foxes for those who love the woods, forest and outdoor lifestyle.
Featuring wildlife jewelry as timeless silhouettes based on folklore, mythology and legend, the handcrafted Ark Collection of jewelry strives to connect the wearer to stories of hope and strength, and remind us that every person is uniquely powerful.
The inspiration for Jenne Rayburn's handcrafted jewelry and accessories comes from thinking about the role of cultural narrative in constructing identity. "My process is to create narratives for my work that intertwine ideas about mythology and tradition," said Rayburn. Creating a collection of animal jewelry was a natural evolution of this exploration, because animals play key roles in many culture's creation myths where they are essential to survival, are respected as equals and are meaningful representations of human potential. "Ancient people recognized their power to transform nature, and consequently the need to live with balance and harmony, never wasting nature's gifts or taking the natural world for granted," states Rayburn. "Animals became powerful symbols for both the virtuous and malevolent way to live." The Ark Collection strives to reconnect us with that sensibility.
Jenne Rayburn's designs incorporate fine and sterling silver, 18-karat matte gold plated brass, antiqued sterling silver plated brass, and raw brass. The Ark Collection of necklaces, pendants, bracelets, brooches and earrings features bold to petite size animal and insect charms. "Jewelry is one of the personal touches that makes a woman's outfit truly unique," notes Rayburn. "In designing this collection, I wanted to create a broad range of coordinating imageries and sizes, drawing from cultural myths as diverse as indigenous Americans to Ancient Egypt, Asia and Persia." Each unique jewelry piece is individually made so no two are alike. The handcrafted jewelry comes on custom printed cards that include the story and symbolism of the animal, making it the perfect choice for a unique gift. Retail prices range from $30 to $180.
Visit Jenne Rayburn's collections: http://www.jennerayburn.com
Visit Jenne Rayburn on Facebook: http://www.facebook.com/Jenne.Rayburn
About: Jenne Rayburn is a Boston-based jewelry/textile artist who also studied interior design and architecture, and her work explores the convergence of architecture, design, technique and identity. Balancing the demands of a career and a growing family, Jenne is a mother, wife and daughter who designs for herself and all the women in her life who want to feel uniquely beautiful and powerful. It is her hope that the wearers of her pieces will find joy in a delightful artistic statement, and also something that enhances their individuality and confidence. Her work is suitable for wedding jewelry and is carried in local galleries and online. Please visit http://www.jennerayburn.com for Jenne Rayburn's online flagship store. For wholesale information, please visit jennerayburn.com/wholesale.com.