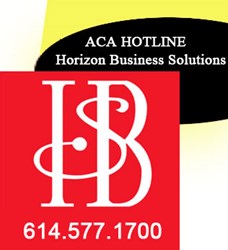 With penalties looming, business owners cannot afford to delay action on this mandate., Kim Bolin, HBS VP
(PRWEB) August 28, 2013
Under the Affordable Care Act (ACA), an important deadline is fast approaching for all employers with both part-time and full-time employees. By October 1st, all employers must notify employees of the new health care options under the Health Insurance Marketplace, also referred to as the Small Business Health Options Program (SHOP).
This notification mandate applies to employers with revenues in excess of $500,000, with one or more employees regardless of their health plan enrollment status. Employers are not required to provide a separate notice to dependents or other individuals who are or may become eligible for coverage under the plan but who are not employees.
Horizon Business Solutions Kim Bolin says, "If businesses don't comply, serious penalties can be assessed on business owners."
As for new hires, employers are required to provide the notice of health care options to each at the time of hiring beginning October 1, 2013. For 2014, notice is required to be provided within 14 days of an employee's start date.
"We recommend that employers download the form supplied by the government (http://www.dol.gov/ebsa/pdf/FLSAwithplans.pdf) and share it with their employees before the October 1st deadline," said Kim Bolin, vice president at Horizon Business Solutions. "Prior to sharing the form, employers need to fill out a Section B with information about the company, and then share it with employees via hand delivery, email or postal mail. We also recommend that employers ask each employee to sign the form verifying they have received it and keep a copy on file for their records," he added.
Health Insurance coverage through the Marketplace begins in October 2013 for coverage starting as early as January 1, 2014. The notification of healthcare options is designed to:

Inform employees of the existence of state health care marketplaces
Explain what services will be provided
Explain how the employee may contact the marketplaces to request assistance
Detail how employees may be eligible for a premium tax credit or cost-sharing reduction if the employer's plan does not meet certain requirements
Explain that the employee may lose employer contributions for health care benefits if he/she enrolls in the marketplace, and that all or some portion of such a contribution may be excludable from income for federal income tax purposes
With open enrollment for health insurance coverage through the Health Insurance Marketplace begins October 1, 2013, for small business owners who have less than 50 employees; this notification is just the beginning of mandated actions regarding compliance with the ACA.
Kim Bolin works for Horizon Business Solutions (HBS), a unique full service accounting firm providing small to medium size businesses with revolutionary ways to handle bookkeeping and accounting. For more information on ACA Mandates , call Kim Bolin at (614) 577- 1700 or email Kim Bolin at bkimbolin(at)horizonbiz(dot)com.