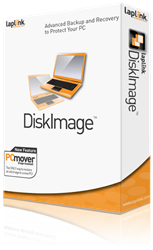 With the hassle-free nature of the software, there's no reason to keep data vulnerable.
Bellevue, WA (PRWEB) August 28, 2013
Incidents of computer and server crashes are scattered throughout recent news. Just last week, the U.S. stock market was impacted by a server crash that caused a 3 hour halt in trading and an estimated 60 million computers will fail this year worldwide, with only 1 in 4 people using data protection software. Laplink Software, Inc., the leader in PC migration and synchronization technology, announces that it offers the most comprehensive solution to data loss with Laplink DiskImage.
DiskImage is an innovative backup and recovery system that recovers PCs from corrupted systems, viruses, hackers, and other malware. Utilizing a unique process that creates a perfect image of all applications, files, and settings on a PC, Laplink DiskImage does more than secure data—it secures the entire PC.
"Unexpected data loss is expensive," said Thomas Koll, CEO of Laplink. "When you take into account the loss of trust from customers whose information has been compromised in addition to loss of productivity, data lost can cost thousands of dollars."
Just last year, almost half of companies surveyed lost important business information, with a large portion of that data loss being due to user error and accidental deletion. The cost of data loss can be so high that research shows that 60% of companies suffering from data loss will shut down within 6 months of the disaster.
Laplink DiskImage keeps organizations in business. The sophistication of the software allows users to be protected regardless of hardware with an advanced burning system that stores images on a variety of external media.
"DiskImage is incredibly simple," explained Koll. "A built-in scheduler automatically keeps PCs protected even when in use. With the hassle-free nature of the software, there's no reason to keep data vulnerable."
Backing up data is incredibly easy with a step-by-step wizard that guides users through the setup process. Auto-scheduling allows PCs to be protected 24/7 without the need to remember to manually perform backups. Users can even repair and restore Windows systems, applications, and files directly from a boot CD—even if the PC won't start!
Businesses looking to invest in loss protection can find Laplink DiskImage at http://www.laplink.com for $39.95.
About Laplink Software, Inc.
For over 30 years, Laplink has been the leader in providing software used for PC migration, remote access, file transfer, and synchronization. The privately-held company was founded in 1983 and is headquartered in Bellevue, Washington.