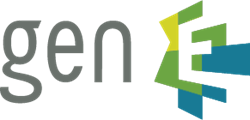 San Clemente, California (PRWEB) August 28, 2013
gen-E, a global IT process automation (ITPA) software company, has been chosen as a finalist in the 5th annual Golden Bridge Awards for its Resolve™ IT Process Automation platform for innovation in Business Process Management in Information Technology and Security.
The coveted annual Golden Bridge Awards program draws active participation from a broad spectrum of industry voices and encompasses the world's best in organizational performance, products and services, innovations, executives and management teams, with nominations from every major industry in the world. Organizations from around the globe are eligible to submit nominations including public and private, for-profit and non-profit, and large and small enterprises.
"It was an amazing honor to be chosen by the Golden Bridge judges as Women Executive of the Year in 2012, but receiving recognition for Resolve is also incredibly rewarding," said Payal Kindiger, EVP of Marketing and Managed Services at gen-E. "It's a testament to the hard work the entire gen-E team has put into making Resolve a product that has broken new ground in the IT Process Automation market, by combining social and collaborative processes with automation to allow dynamic, human interaction to be the centerpiece of IT innovation."
gen-E Resolve IT Process Automation provides a uniquely personalized, interactive approach to automation – extending across business areas such as cloud, customer care, provisioning, service desk and more. Resolve addresses the most important challenges that businesses face today, providing new levels of IT and organizational agility to accelerate growth even amidst extraordinary competition. The software is used by leading global financial services and transportation firms as well as communications service providers and other companies around the world.
"I congratulate our entire team on this recognition as gen-E continues to set the stage for innovation through seamless collaboration and easy-to-implement automations that transform the way businesses resolve their most complex IT and customer care issues," said Duke Tantiprasut, Ph. D., Chief Technology Officer for gen-E.
Golden Bridge Award winners will be announced and honored during the 5th annual awards dinner and presentation on Monday, September 30, 2013, in San Francisco. The complete list of finalists can be found at: http://www.goldenbridgeawards.com/world/.
About the Golden Bridge Awards
Golden Bridge Awards are an annual industry and peers recognition program honoring Best Companies of all types and sizes in North America, Europe, Middle-East, Africa, Asia-Pacific, and Latin-America, Best Products, Innovations, Management and Teams, Women in Business and the Professions, and PR and Marketing Campaigns from all over the world. Learn more about The Golden Bridge Awards at http://www.goldenbridgeawards.com.
About gen-E
gen-E is an IT process automation (ITPA) software company that places human ingenuity at the forefront of workplace activity. The company's award-winning Resolve™ software breaks down traditional organizational and process constraints through an innovative approach to automation. Powered by actionable and dynamic knowledge management capabilities, Resolve allows organizations to realize cost savings of as much as 200 percent within months of deployment. For more information, please visit http://www.gen-e.com.