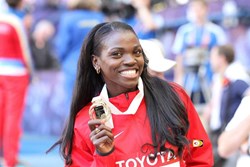 As a Doctor of Chiropractic, I love to see how the integration of chiropractic care, physical therapy, functional movement, acupuncture, and taping technique all play a role in helping these talented individuals achieve their dreams
Rockville, MD (PRWEB) August 29, 2013
Dr. Jenn Davis followed up her 2012 Olympic support of the Bahamian athletes with a trip to the 2013 World Track and Field Championships in Moscow.
A special moment for Dr. Davis came at the IAAF World Championship in Russia when triple jumper Caterine Ibarguen Mena won the Gold and the first medal ever for Columbia. "I met Caterine during my work with the Colombian Olympic Association and had the pleasure of working on her at various times and events" said Dr. Davis.
Another proud moment for Dr. Davis was when Shaunae Miller, from her home country the Bahamas, was able to finish in fourth place at the World Track and Field Championships. She was the youngest female ever to make the finals in the 200 meter.
"I am honored to have been able to work with her and contribute to the growth and success of this talented young lady" said Dr. Davis.
"So many amazing lives and stories; so much talent, focus, and discipline exhibited by these athletes. As a Doctor of Chiropractic, I love to see how the integration of chiropractic care, physical therapy, functional movement, acupuncture, and taping technique all play a role in helping these talented individuals achieve their dreams."
Sport and Spine Rehab provides chiropractic, physical therapy, and rehab services at seven locations in the Maryland and Virginia suburbs of Washington, D.C. and Baltimore.
Dr. Jenn Davis is a Chiropractic Associate at the Sport and Spine Rehab of Rockville location.