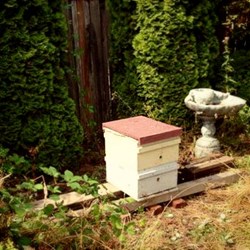 This will be more than just another local honey, it will be unique due to the garden and wildlife around the Joel Palmer House.
Dayton, Oregon (PRWEB) August 29, 2013
The Joel Palmer House Restaurant, led by Chef/Owner Christopher Czarnecki, has been specializing in locally harvested wild mushrooms since 1997. To continue their efforts to source locally produced ingredients, Chef Christopher partnered with Damian Magista of Bee Local to set up a new honey bee hive, tucked away behind the historic barn on the Joel Palmer House property. The new apiary will allow Chef Christopher and his team to support the health of their culinary garden and enjoy a yearly honey harvest.
Portland-based Bee Local is the only honey producer to offer terroir-based honey varieties. Unique micro-batch offerings have complex flavor profiles that reflect the forage available in specific neighborhoods. Just like wine, honey has a distinct flavor profile, and reflects the water, weather, soil, flowers, and plant life of the immediate area where the hive is located.
Chef Christopher notes, "Since our mushroom cultivation patch went in a few weeks ago, we've gotten more and more excited about producing and growing as many of our own ingredients as possible. Last year we approached Damian of Bee Local and came to an arrangement where he will maintain the bee hive and help us produce the honey."
The Joel Palmer House offers three special tasting menus that provide a selection of the best that the restaurant and Chef have to offer. For example, the Mushroom Tasting Menu takes guests on a six course culinary adventure that may include Wild Mushroom Soup, Carrot Tartar, and Angel Hair Pasta with Lobster Mushrooms, depending on the season. Chef Christopher is excited to explore new ways to incorporate the new, hyper-local honey into a variety of dishes, desserts, and even the house-made bread.
"We've been using local honey for many years. But like Pinot Noir, honey takes on the character of the environment in which the bees live. This will be more than just another local honey, it will be unique due to the garden and wildlife around the Joel Palmer House," says Chef Christopher.
About The Joel Palmer House Restaurant
The Joel Palmer House's innovative and exciting menu features choice local produce, wild mushrooms and Oregon truffles. Chef Christopher Czarnecki and family strive to incorporate seasonal ingredients and use many locally grown vegetables, including many from their own on-site garden. Chef Christopher Czarnecki has created a tantalizing, creative menu that marries perfectly with the world renowned Pinot Noir of Oregon's Willamette Valley.
Of note, the Joel Palmer House ranks as one of Oregon's finest historic homes and is on the National Register of Historic Places and the Oregon Historic Register. Built in 1857, the house is Dayton's oldest standing structure. When weather permits, guests can enjoy their dinner on our outdoor patio, soaking in the last rays of sunshine in the heart of Oregon Wine Country.