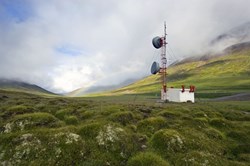 "The overwhelming majority of these property owners are not receiving fair value for the use of their land, and it is our job to change that."
Halifax, Nova Scotia (PRWEB) August 28, 2013
Vertical Consultants is proud to announce the telecom lease-consulting firm's ability to immediately increase the value of a Canadian university's cell tower lease. The client, St. Francis Xavier University, one of the oldest universities in Canada, was approached by a telecom company for the placement of the telecom company's cell tower and telecom equipment on campus property. St. Francis Xavier University, concerned with the initial proposal, sought the expertise of Vertical Consultants after taking advantage of the telecom consulting firm's free cell tower lease review program.
After reviewing the proposed lease, Vertical Consultants discovered the lease was significantly undervalued. The telecom consulting firm used this discovery as leverage during the negotiating process that led the firm to secure a significant increase in cell tower rent for their client. Vertical Consultants was able to increase the value of cell tower lease by 140%. Vertical Consultants was not only able to immediately increase the value the new cell tower lease, but also was able to structure an agreement that will enable it to maximize its value throughout the entire lease term.
Hugh Odom, Founder and President of Vertical Consultants states, "We are pleased to assist our clients when it comes to improving the value and structure of their cell tower leases. There are approximately over 300,000 cell tower leases associated with properties across North America. The overwhelming majority of these property owners are not receiving fair value for the use of their land, and it is our job to change that."
Vertical Consultants has shaken up the telecom leasing industry acting as advocates for property owners leasing their land for telecom placement. On average, Vertical Consultants increases cell tower rents for their landowner clients by 142% and, since inception, recovered over 200 years' worth of unpaid cell tower rents and expenses for their clients, collectively.
Vertical Consultants was founded in 2010 by Hugh Odom and is comprised of a group of wireless industry veterans with decades of combined experience. Vertical Consultants specializes in issues surrounding the wireless telecom industry and prides itself as a source of information and advocate for property owners. Vertical Consultants' experience in the industry allows it to offer its clients unmatched services, expertise and results: all of which provide the telecom consulting firm opportunities to allocate a profit portions to philanthropy. To learn more about Vertical Consultants and how its success provides this allowance, visit http://www.vertical-consultants.com or contact Vertical Consultants at info(at)vertical-consultants(dot)com or 877.456.7552.