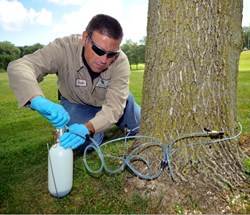 Woburn, MA (PRWEB) August 28, 2013
Arborjet, a company dedicated to developing remedies for the world's most destructive tree insects and diseases, invites homeowners to join together this fall and become part of the "Million Tree Challenge™" to help save one million American trees from the devastating effects of tree diseases like Anthracnose (Leaf Blight), Sudden Oak Death, Fire Blight, and varied tree insects by the end of 2013.
If trees are not cared for, these conditions can cause serious damage, even leading to tree death. Mature neighborhood trees that have succumbed to diseases are expensive to remove and replace, potentially costing over $1,000 per tree. When properly cared for, the cost of treatment with trunk injection is much lower, especially when considering the annual value of these large mature trees. By helping to preserve the environmental, economic and esthetic benefits trees provide, homeowners can continue to enjoy the many benefits of their trees.
Anthracnose (Leaf Blight) is a fungus that winters on a tree's twig tissue. In the spring, spores are then transported to new buds and shoots. Different species of anthracnose impact a variety of tree species, including oak, ash, maple, hickory, elm, walnut, birch, linden, sycamore, and dogwood. "Fall is the ideal time to treat with PHOSPHO-jet to prevent spring outbreaks, as well as trigger the tree's natural defense mechanisms to make it more resistant to infection and better able to recover, should it suffer an infection," said Rob Gorden, Director of Urban Forestry of Arborjet.
Forward-thinking municipalities and certified arborists are using trunk injections with PHOSPHO-jet to ensure the country's neighborhoods and urban forests remain beautiful now and for the future. Trunk injection works by having a licensed applicator deliver the appropriate formulation dose directly into a tree's vascular system so that it moves quickly to the target area. Unlike spraying and soil drenching, tree trunk injections are sealed in the tree, limiting environmental exposure. Nothing is placed into the air or soil at the time of injection. The active ingredient keeps working through the tree's vascular system into the spring, providing continued protection as trees begin to produce leaves.
Fungal diseases and invasive tree pests are wreaking havoc on America's urban forests, but there are effective ways to mitigate this destruction. In fact, in 2012, over 850,000 trees were protected against these attacks via quick acting, long lasting trunk injection treatments from Arborjet. As an environmentally responsible treatment, trunk injections cost significantly less than removing and replacing mature trees. Additionally, the treatment of these trees also had a significant economic impact, saving the United States an estimated total of $714 million: $612 million in tree removal and replacement costs, and an annual tree benefit value of $102 million in storm water runoff, property value, energy savings, and air quality (per the National Tree Benefit Calculator).
In declaring the "Million Tree Challenge™," Arborjet encourages everyone to help save one of our country's most treasured assets, our trees. To learn more about what you can do this fall, visit http://www.arborjet.com/treedisease.
About Arborjet
Founded in 1999, Arborjet's mission is to provide the most effective and environmentally responsible formulations and equipment to promote overall plant health care and to preserve our natural and urban forests. The company is committed to researching and developing remedies for the world's most invasive pest insects and diseases to support arborists and enable them to safely treat near waterways and highly populated areas. Arborjet's products are for both residential and commercial application and are distributed throughout the United States. Arborjet is headquartered in Woburn, MA. To learn more about tree health products provided by Arborjet visit http://www.arborjet.com.