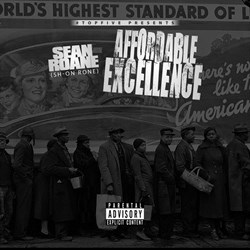 Miami, FL (PRWEB) August 27, 2013
Coast 2 Coast Mixtapes announce the release of the "Affordable Excellence" Mixtape by Sean Roane. The 10-track project is currently available for download. The mixtape features production from Brizzie and Robbie Anthem Serious Beats.
Sean Roane a.k.a TopFive is a 23-year-old rapper from South Jersey. Sean had always wanted to be a rapper but did not start pursuing his musical dream until he met close friend and upcoming producer, Darryl Brister, a.k.a Brizzie while attending Oklahoma Panhandle State on a football scholarship. Sean got his name "TopFive" after a long conversation about the top five funniest moments with one of his football coaches. TopFive began putting everything into a top five list and the nickname stuck. Sean's Top Five musical influences are JayZ, Jadakiss, Camron, Fabolous, and Curren$y, in that order.
"Affordable Excellence" is Sean's first mixtape which catalogs his last semester in Oklahoma. "Affordable Excellence" presents real life messages on top of exquisite production. After a full listen you would never have guessed that this is Sean's first mixtape; his flow and delivery have the confidence and conviction of a long established artist. "Affordable Excellence" is a serious mixtape that touches on the trials and tribulation of growing up in society today. When Sean is not rapping about the struggles of life he lightens up the subject matter, speaking on the highlights of being a college student; running parties and chasing ladies. If you are looking for a mixtape that presents real life messages on top of well-produced beats, this is the mixtape for you. For more information on Sean Roane, check him out on Twitter.
About Coast 2 Coast Mixtapes
Coast 2 Coast Mixtapes are the most widely distributed mixtapes in the world, with over 100 million downloads/plays generated by over 200 volumes officially hosted by major artists. Coast 2 Coast has a solid reach in the new music industry with a digital magazine, DJ coalition, industry tips blog, yearly convention, and more. Coast 2 Coast Mixtapes represents a unique opportunity for artists of all urban genres, from major to indie. For more information, visit http://www.coast2coastmixtapes.com.