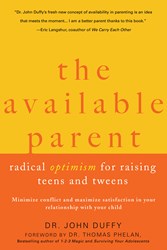 (PRWEB) August 28, 2013
Dr. John Duffy was interviewed on My Fox Chicago on one of the most common back-to-school problems parents face: what does one do when a child doesn't get along with his or her teacher? National teen parenting expert Dr. Duffy, who authored the best-selling book and audiobook The Available Parent, tells parents that this scenario is not at all uncommon. It's important for parents not to panic and call the principal, says Duffy; first, try having a conversation with the child about what exactly the problem might be.
As always, Dr. Duffy advocates for clear, honest, and open lines of communication. His insightful advice has made him the premiere national expert on parenting teens and "tweens," and he is Steve Harvey's go-to guest specialist for these issues.
Dr. John Duffy is a clinical psychologist and certified life coach with a thriving private practice in the Chicago area. Dr. Duffy works with both teens and adults and specializes in helping parents maximize satisfaction and minimize conflict in their relationships with their teenagers. In addition to clinical work, Duffy also consults with individuals, groups and corporations in a number of areas, including Emotional Intelligence, stress management, balancing work and family, conflict resolution, goal-setting and the power of thoughts in bringing about change. Dr. Duffy's highly satisfied clients include Sears, Allstate, General Electric, Household Financial, Exxon Mobil, Accenture, Bank of America and Hewitt Associates. The Duffy family lives in Chicago, Illinois.
What people are saying about The Available Parent:
"A healthy dose of optimism and lots of practical suggestions."
—Publishers Weekly
"The Available Parent is a valuable and thought-provoking resource that's filled with many precious lessons and gives parents a unique perspective on cultivating a healthy relationship with their kids."
—Psych Central
The Available Parent: Radical Optimism in Raising Teens and Tweens
♦ How to understand the adolescent mind
♦ What teen rebellion is really about
♦ How to build your child's self-esteem and confidence
♦ How to create a successful behavioral contract