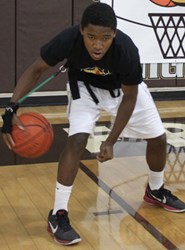 I developed Guarantee3 to help players of every age, and every level, become overall better players and boost their practice and game-time confidence.
Los Angeles (PRWEB) August 28, 2013
One Los Angeles-area dad turned his 14-year-old son's insecurities about his basketball skills into a product that is helping players of all ages throughout the world improve their skills. That product, Guarantee3, a lightweight athletic basketball trainer and strength-training tool, is now available to consumers.
Guarantee3 focuses on improving a player's shooting form, dribbling and overall game-time confidence by developing muscle memory. It is the only patent pending training apparatus that can be used by a player of any age. Guarantee3 focuses on a player's fundamental technique in the two core areas of the game resulting in an increased game-time skillset.
Based on the physiology and development of muscle memory, Guarantee3 utilizes resistance bands. The training apparatus is worn around the waist and shoulders during a player's basketball practice, on or off the court, and comes with five different sizes of high-quality resistance bands so the player can select the band size that is right for their weight and height. The resistance band attaches to the shoulder harness and to a three finger, one size fits all workout glove to perfect a player's shooting technique and strengthen the shooting arm. A longer band can be attached to the waist harness to rapidly improve a player's dribbling skills by creating muscle memory of keeping the ball close to the body.
Guarantee3 Creator Dave Felkel was motivated to create a unique product that would improve a player's overall skills after hearing his son talk about his personal insecurities on the court. Felkel immediately went home and created his prototype with common household items, including straps off of a backpack, a keychain, a sleeping bag and workout stretch bands from his home gym. A year later in 2012, the final prototype was established and manufactured. Felkel has personally invested $100,000 into Guarantee3 and the product is currently in the final stages of the patent and is trademark approved.
"After my son told me that he thought he wasn't a good enough basketball player and wasn't feeling confident, I wanted to do everything in my power to help him improve his skills in order to gain that confidence," said Felkel. "I created Guarantee3 for my son, but quickly realized that there were thousands of other players who felt the same way, whether they were in middle school, high school, college or really, any age. As a result, I developed Guarantee3 to help players of every age, and every level, become overall better players and boost their practice and game-time confidence."
Felkel says that upon completing the six-week Guarantee3 workout, which he developed, players will see an increased shooting percentage and improved dribbling technique.
Matthew Porcell, a high school student at Crescenta Valley High School in the Los Angeles area, says that he has felt and seen an improvement in his game since he began using Guarantee3 about a year ago.
"Guarantee3 helps me focus on technique which has drastically improved my game," said Porcell. "I use Guarantee3 as a part of my everyday training, so when I am on the court during a game, my shooting form feels natural and pure."
Guarantee3 costs $34.95 and can be purchased online at http://www.guarantee3.com.
ABOUT GUARANTEE3:
Guarantee3 is a lightweight athletic basketball trainer that improves a player's shooting and dribbling technique through the development of muscle memory. Guarantee3 is worn around the waist and shoulders and uses high-quality resistance bands to strengthen a player's shooting arm, improve a player's follow through, rapidly improve dribbling skills, and develop muscle memory that is vital for improving shooting form and boosting game-time confidence, at any age and any level.