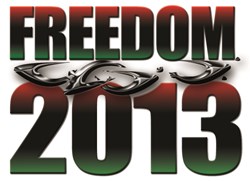 "After the March, Beyond the Dream … Where Do We Go From Here?"
Brooklyn, New York (PRWEB) August 28, 2013
Fifty years after the March on Washington, 100 years after the Booker T. Washington New York Times editorial on the state of the Negro population in America, and 150 years after the Emancipation Proclamation was signed by President Abraham Lincoln – and Black Americans are still not free! Says key leaders of the Freedom 2013 movement.
According to the Freedom 2013 movement, freedom continues to elude a race of people who have given their sweat, blood and tears for the freedom of America. Despite a national buying power that exceeds $1.2 trillion, Black businesses lag behind, leaving an entrepreneurial gap of $1.3 trillion. Blacks have received fewer commercial loans than any other group in New York; and with the median net worth of White households in America exceeding $107,000, that of Blacks is only $5,700. Foreclosure among Black households in New York is more than 13 times that of Whites, and of the 5,414 students accepted into the 8 specialized high schools in New York City in 2011, only 293 of them were Black, despite the fact that Blacks make up 47% of the school population and an estimated 31% of the city's population.
Blacks get stopped and frisked by the NYPD 7 times more frequently than Whites, and yet – according to NYPD data (2011) – contraband is yielded from Whites twice as often as from Blacks. Trayvon Martin is dead for walking with Skittles and his hoodie on in America – and the shooter, who was told by authorities not to follow him, was acquitted and given his gun back. Yet Marissa Alexander, a Black woman and a victim of domestic violence, is serving 20 years in Florida for firing warning shots in the air to fend off her attacker.
Rev. Dennis Dillon, a journalist, pastor and community advocate, will address the struggles and journey ahead for Blacks in America. A fresh and a potent voice, Dillon is calling for a new direction for Blacks, and believes that New York holds the key to the next level of fulfillment of King's dream. He will be joined by clergy, union and community leaders as he speaks on "After the March, Beyond the Dream … Where Do We Go From Here?"
WHEN: Wednesday, August 28, 2013 @ 7:30 pm
PLACE: Brown Memorial Baptist Church
484 Washington Avenue (@ Gates Avenue), Brooklyn, NY 11238
Click here to register via Eventbrite