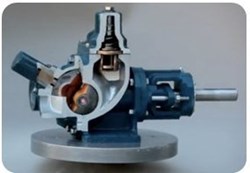 The Granco rotary positive displacement ball pump is an excellent technology for transfer applications. PumpScout looks forward to recommending these innovative products to our clients.
Bend, OR (PRWEB) August 28, 2013
PumpScout announces its strategic partnership with Granco Pump. The company, based in California, manufacturers rotary positive displacement ball type pumps for applications in the petroleum, industrial, specialty chemical, and food products industries.
"Granco has provided customers with durable, versatile, and dependable pumps since 1938," says Justin Johnson, PumpScout co-founder and CEO. "Their rotary positive displacement ball pump is an excellent technology for transfer applications. We look forward to recommending their products to our clients."
Granco's full line of high-quality pumps can be used in a variety of applications and offer customers flexibility of operation. The pump design includes a floating rotor which is pivoted in the spherical housing. With only one moving part and zero metal-to-metal contact, the Granco ball type pump is one of the simplest and most dependable pumps on the market today. It also offers higher volumetric efficiency, lower power consumption, lower maintenance costs, easier installation, and easier reversibility than other positive displacement pumps.
"PumpScout is a great way to introduce Granco to a myriad of potential pump buyers," says Ivan Dimcheff, President of Granco Manufacturing, Inc. "Each PumpScout inquiry has provided us with accurate data regarding the pump specifications so we can quickly send the customer an accurate quotation for his application. This is a great resource for pump companies and their distributors to expand their customer base and increase revenues."
Granco pumps can handle flow rates ranging from 5 gpm to more than 300 gpm, viscosities ranging from 32 ssu to more than 1,000,000 ssu, and pressures to 225 psi when external relief valves are used. All Granco pumps are available in (2) port or (4) port design and feature mechanical seals when necessitated by the pumping application.
The pump design is easily modified to accommodate electric motor drives, gas engine drives, hydraulic motor drives, or belt drives and can be either truck-mounted or stationary. Additionally, the basic Granco pump is capable of handling thin fluids to the most viscous fluids without requiring a new design. The result is a long-lasting, durable, and versatile pump that is suitable for a broad range of applications.
"PumpScout is a great tool that brings todays marketing and technology to a mature industry, and helps bring in quality leads that would otherwise have been missed," says Mike Alessandro, Granco Chief Operating Officer.
Granco was founded by Edwin Grandburg, who designed and developed the unique rotary positive displacement pump that the company still sells today. The pumps are manufactured in the USA and installed all around the world.
About PumpScout
PumpScout.com is the pump buyer's single source for pump suppliers and consumer information, tools and tips on buying and maintaining all kinds of industrial pumps. The website features a powerful quote system allowing buyers to get price quotes – fast and free. For more information, visit PumpScout.com.