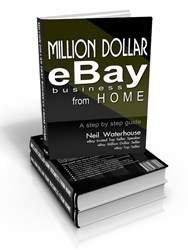 The group is a melting pot of ideas and will help everyone create the online business of their dreams. - Neil Waterhouse
Sydney, Australia (PRWEB) August 28, 2013
A new group has been established in Sydney by eBay multimillion dollar seller and author Neil Waterhouse to bring online sellers together to talk about their experiences, learn new techniques and encourage each other to succeed. The group was founded August 15, 2013.
Neil Waterhouse said many people work by themselves when running an eBay business so it doesn't provide them a lot of time to be social. The main goals of this group are to create a networking environment for sellers, while helping each individual raise their bottom line.
"This group is more than finding out what to sell on eBay," Waterhouse said. "The group is a melting pot of ideas and will help everyone create the online business of their dreams. We are here to help each other, and to be social and have fun together."
The Meetup group (http://www.meetup.com/Sydney-eBay-And-Ecommerce-Meetup-Group) is just a few weeks old but already has 27 members and had their initial meeting on August 27th.
Neil Waterhouse founded Waterhouse Research as a tool for ecommerce sellers to identify the best products to on eBay. This group goes the extra mile by providing a community environment where people can come to share their story and learn new techniques to use at their online store to increase their sales.
"We don't want people to just know what the best products to sell on eBay are, we want them to actually sell them," Waterhouse said. "People should be having fun selling things online and that is what this group is about."
About Waterhouse Research
Waterhouse Research is the brain child of Neil Waterhouse, author of eBay book "Million dollar eBay Business From Home – A Step By Step Guide."
The concept of Waterhouse Research began its creation back in 2002 by Neil to help him find out which items (keywords) were the hottest items on the internet. Neil would track these keywords and see which keywords reported a sale. The goal of Waterhouse Research is to help eBay sellers make more money on eBay by showing eBay sellers which items to sell and reveal the suppliers. Our mandate is to help eBay Sellers make more money. Our customers vary from new customers learning how to sell at eBay to top 500 eBay businesses. Our customer service team is here to help you. Their job description is "To make you smile!" and we find the best way to do this is help our customers make more money. We take pride in our work and offer a no questions asked 100% money back guarantee on everything we do.