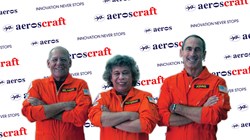 I'm truly inspired by the people at Aeros who dare to ask, why not? Their professionalism, competency and spirit of innovation have the potential to fundamentally change global logistics
Los Angeles, CA (PRWEB) August 28, 2013
Aeroscraft manufacturer Aeros announced today the members of its flight test crew, who are now under final preparations for a historic first flight within the coming weeks aboard a new innovative lighter-than-air vehicle designed to transport oversized cargo above the clouds later this decade.
The test flight crew members include airship veteran Corky Belanger as Test Pilot in Command and U.S. Air Force General Raymond Johns as Test Pilot, who will be joined by the Aeroscraft's inventor and Aeros CEO Igor Pasternak as Flight Test Engineer.
The flight crew will soon make aviation history operating a 266-ft long Aeroscraft proof-of-design engineering vehicle nicknamed 'Dragon Dream,' which will engender a new category of aircraft distinct from the three types of air vehicles in operation today. The ''Dragon Dream' aircraft incorporates an innovative variable buoyancy management system into a scaled down model roughly 1:2 scale of the forthcoming 66-ton cargo payload capacity transport Aeroscraft, or model ML866. The purpose of the flight test program is to evaluate the pilot interface, as well system operation and controllability, as part of ML866 development program.
The Aeroscraft is the only air vehicle of its kind. The rigid, variably buoyancy aircraft will establish new capacity for commercial and military clients as a global logistic solution, establishing the VTOL air cargo market for the 21st Century. The Aeroscraft combines attributes and benefits of fixed wing aircraft like airplanes, rotary aircraft like helicopters and airships such as blimps or aerostats; however, the vehicle is distinct in its aerial operation because of Aeros' revolutionary and proprietary buoyancy management system, or COSH (control-of-static-heaviness) which enables true VTOL cargo operations.
Alfred 'Corky' Belanger is a veteran airships pilot who holds more than 15,000 hours of operational and test experience piloting airships on four continents. Belanger is joined in the Aeroscraft cockpit by General Raymond Johns serving as test co-pilot. Johns retired as a four-star General and Commander of Air Mobility Command (AMC) for the United States Air Force in January 2013. Johns is a Command and Test pilot with more than 5,000 flight hours in over 80 different aircraft who joined Aeros' flight operations team in August 2013. Igor Pasternak is the CEO of Aeros and Chief Designer of the Aeroscraft, as well as a veteran Flight Test Engineer who participates as a flight crew member on all initial flight tests of Aeros' aircraft. (See full bios below).
Aeros' completion of the Aeroscraft "Dragon dream" proof-of-design engineering air vehicle coincides with the achievement of the design, engineering and configuration of Aeros' ML866 and ML868 model, capable of vertically airlifting 66-tons and 250-ton of cargo. The Aeroscraft ML866 and ML868 will cruise at about 100 knots, yet utilize much less fuel in operation because of the helium- provided lift. These Aeroscraft are operate on about 1/3 the fuel consumption compared to comparable fixed wing aircraft. At max payload, the 66-ton ML 866 vehicle can vertically airlift and transport cargo up to 3,100 nautical miles without refueling, flying at a max speed of 120 knots.
The Aeroscraft fleet will be game-changing to the current global transport logistics industry, helping balance economic development and environmental conservation. The "Dragon Dream" has been produced by Aeros in partnership with the US Department of Defense, DARPA and NASA to provide new ways of moving heavy and oversized cargo from point-of-origin to point-of-need, even to areas with damaged infrastructure or those lacking it altogether. The Aeroscraft is a solution to many logistic bottle neck problems, aiding humanitarian crisis response, and doing so with fiscal acuity and energy consciousness.
"In the last couple decades there have been incremental improvements to airship technology, several by Aeros, after a long period lacking innovation; however, no one has been able to answer the big question of how you overcome the external ballast exchange requirements at destination until now, and this changes the game!" explains Test Pilot in Command Alfred Belanger. "I'm excited to be part of this groundbreaking effort that establishes a new type of air vehicle, the Aeroscraft, and thankful to Igor for the opportunity."
"I'm truly inspired by the people at Aeros who dare to ask, why not? Their professionalism, competency and spirit of innovation have the potential to fundamentally change global logistics. The company's dedication to a better transportation solution has brought us to this exciting moment in aviation history," reveals Test Pilot General Raymond Johns. "It is an honor to join with the Aeros team surrounded by such an exciting, commercial and military viable aviation project of this scope and scale."
"Of course, I'm thrilled to be partnered with these two accomplished aviators as we undertake another major milestone toward introducing a new global logistics paradigm," adds Flight Engineer and Aeros CEO Igor Pasternak.
The Aeroscraft will be a game changer due to a unique ability to take off and land vertically like a helicopter, hover, and reach locations that have no roads or places to land. The aircraft is similar to a giant 'flying submarine' because of a proprietary internal buoyancy management system that compresses inert helium within to overcome traditional requirements for external ballast exchange when unloading cargo from LTA vehicles at destination. This eliminates the need for ground personnel and supporting infrastructure and enables true VTOL flight at maximum payload, as well as new opportunities for commercial industries around the world in solving intermodal logistics and infrastructure development difficulties.
COSH development has opened a new era for cargo logistics for industries around the world, and the benefits of the Aeroscraft are expected to be globally transformational and significant to humanity. The network of globally positioned Aeroscrafts will take the 'chain' out of supply chain and give Aeros' clients unlimited trans-continental reach, on every continent, moving specialty cargo from point-to-point. The Aeroscraft's advantage is anchored by the ability to place cargo onto nearly any topographical location in the world with pinpoint accuracy, using the proprietary suspension system allowing for aerial cargo placement while hovering above the delivery zone.
CHIEF TEST PILOT: ALFRED 'CORKY' BELANGER
Mr. Alfred 'Corky' Belanger is Chief Pilot, Test and Training for the Aeroscraft Corporation. He is a veteran LTA test pilot that has been associated with Aeros operations for more than 13 years. Mr. Belanger holds a Multi-ATP License from the FAA, and has been flying airships since 1974. During that period he has acquired more than 15,000 hours of experience piloting more than a dozen different LTA aircraft on 4 continents. He is among the most qualified candidates in the world to be the first to fly the new aircraft type, the Aeroscraft, which combines many of the features and benefits of fixed wing, rotary and LTA aircraft.
Prior to joining Aeros, Mr. Belanger has flown airships branded by Budweiser, MetLife, Sea World, Farmers and other many companies after first spending more than a decade flying blimps for Goodyear. Mr. Belanger also has extensive experience working with a variety of agencies supporting varied LTA missions. Belanger holds an Associate Degree in Aviation from Mt. San Antonio College in Walnut, CA.
TEST PILOT: GEN. RAYMOND JOHNS
Retired as of January 1, 2013, General Johns, USAF is former Commander, Air Mobility Command. Air Mobility Command's mission is to provide rapid, global mobility and sustainment for American's armed forces. The command also plays a crucial role in providing humanitarian support at home and around the world. The men and women of AMC-active duty, Air National Guard, Air Force Reserve and civilians-provide airlift, aerial refueling, special air mission and aeromedical evaluation.
General Johns served as Deputy Chief of Staff for Strategic Plans and Programs, Headquarters U.S. Air Force, Washington, D.C., where he developed, integrated, evaluated and analyzed the U.S. Air Force Future Years Defense Program that exceeded $822 billion, and the Air Force Long-Range Plan to support national security objectives and military strategy. The general was responsible to the Secretary of the Air Force and the Chief of Staff. General Johns is a command pilot and experimental test pilot with over 5,000 flying hours in over 80 different aircraft. Johns aviation career includes the C-141, KC-10, N/K/C-135, and T-38 instructor pilot, as well as the chief test pilot and test program manager for the VC-25 Air Force One Replacement Program. Johns graduated from the U.S. Air Force Academy in 1977.
TEST FLIGHT ENGINEER: IGOR PASTERNAK
Mr. Pasternak is Founder and CEO of the Aeros Corporation and Chief Engineer of the Aeroscraft. An accomplished engineer and executive, Pasternak has been the primary force in the development of the Aeroscraft and the structuring and staffing of Aeroscraft Corporation toward delivery of its game-changing capabilities to the global transportation and logistics market. He is also one of the world's leading experts in the design and construction of the FAA Certified Airships and variable buoyancy aircraft.
As the Company's Chief Designer, he is the creator of the Aeroscraft, a new type of cargo air vehicle that encompasses true vertical take-off and landing capability at maximum payload, while operating independently of external ballast. Through his leadership, Aeros has not only grown to become a global provider in advanced transportation solutions, but is equipped to take modern logistics to its full potential with the Aeroscraft solution. Mr. Pasternak has been twice honored with the US Small Business Administration Small Business Person of the Year Award. Mr. Pasternak holds a Masters in Civil Engineering from Lviv Polytechnic in Lviv, Ukraine.
Aeros will be operating the Aeroscraft fleet to provide air cargo delivery services to both commercial and military clients, and will be implementing a wet-lease or ACMI (aircraft-crew-maintenance-insurance) business model designed to best address the global demand and limited initial capacity, while simultaneously leveraging Aeros' expertise in operating LTA aircraft to speed fleet deployment. The company's clients will execute time charters to support their particular industry-specific corporate objectives within the aerospace, defense, traditional energy, mining, alternative energy, project engineering and hospitality industries, among others. With access to the initial fleet becoming more limited by the week, customers are quickly negotiating exclusive rights to Aeroscraft within their industries, recognizing new global opportunities are being opened, significant competitive advantages will be established, and new shareholder value created.
Meanwhile at Aeros, numerous technology programs are concurrently progressing under Pasternak's leadership to ensure the Aeroscraft fleet is both affordable to build and to operate, as well as reliable and effective when soon establishing the VTOL air cargo market for the 21st Century. These programs are ultimately being implemented to retain and further establish strategic competitive advantages, and include further improvements to the COSH system with focus on further weight reduction and reducing acquisition, operating and support costs without sacrificing its rapid and controlled helium management. Aeros is also refining its proprietary integrated cargo handling system to minimize loading and unloading time and increase delivery speed, while optimizing the vehicle's modern fiber optic network to reduce weight, cost and aircrew workload. Open system avionics and structure technology research and testing are also continuing to optimize lightweight 3D structures for maximized cargo payload capacity and flight performance.
Learn more about the most effective vertical-takeoff-and-landing (VTOL) cargo transport aircraft in the world at http://www.aeroscraft.com. Media interested in interviews should contact media(at)aeroscraft(dot)com, or contacts below.
About the Aeroscraft: An Aeroscraft is a new type of Rigid Variable Buoyancy Air Vehicle, designed to control lift in all stages of air or ground operations, including the ability to off-load heavy payloads without the need to re-ballast. For the first time in history, an aircraft has been designed to control and adjust buoyant and dynamic lift, creating a new paradigm for air transportation and logistics. Poised to enhance the air transportation industry, the Aeroscraft will deliver opportunities for business and consumers globally through access to remote locations and by new cargo delivery capabilities. The key features of the Aeroscraft include a rigid structure, vertical takeoff and landing, and operational abilities at low speed, in hover, and from unprepared surfaces.
About Aeros: Aeros was founded in 1987, and the company advanced from a small advertising aerostat production manufacturer in the Ukraine to a premier airship producer and R&D firm for the aerospace industry based in the United States. Today Aeros is the most innovative FAA certified LTA manufacturer completing exciting work on a new type of air vehicle called an Aeroscraft that combines many of the attributes and benefits of fixed-wing (airplanes), rotary (helicopter) and traditional lighter-than-air (LTA) aircraft. Through their exceptional manufacturing quality, Aeros has achieved multiple FAA airship type certificates and operates with an FAA Production Certificate. Aeros currently boasts an extraordinary product line that includes the most advanced airships and tethered aerostats utilized in commercial and government applications throughout the world. For the past quarter century, Aeros has pioneered new product advancements in the aerospace defense technology sector, which has been a strong contributing factor in maintaining continuous corporate growth. The entire Aeros organization and the advisory board, comprised of military and commercial leaders, are dedicated to one goal of harnessing the exciting future and opportunities ahead.