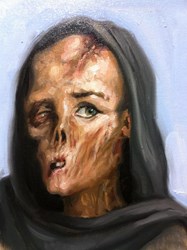 ...impeccably researched...an impassioned, thought-provoking work of biblical fiction.

Kirkus Reviews
(PRWEB) August 29, 2013
Each day, news stories are released about heartbreaking atrocities against women – from "honor killings" to genital mutilation and bride burning to stoning – women all over the world are impacted in the name of religion. Dr. Theckedath Mathew is determined to help put this to an end.
Though he was born into a strict Roman Catholic family, Dr. Mathew quickly discovered that the leaders of his Catholic Church, high school, and college didn't take kindly to him speaking his mind. A passionate anticommunist protestor, Dr. Mathew was jailed for his political beliefs and considered an outcast for his religious beliefs, which only drove him further in his search for knowledge and truth. For over 20 years, Dr. Mathew pored over religious documents and pieced together 18 years of missing pages in the Bible in his riveting new book, Joshua: The Odyssey of an Ordinary Man.
In a interview, Dr. Mathew can discuss:

Whether or not Joshua of Nazareth was God
The pressing need to end atrocities against women in the name of religion
The documents he studied and the places he traveled to piece together lost history
The most surprising information he found during his research
The harrowing events of his own past that drove him to seek the truth
Dr. Theckedath Mathew, MD, was born into a middle class, Roman Catholic family on the Southwest cape of India. After years of serving as an altar boy, Dr. Mathew went on to attend a Catholic high school and Catholic college – both of which he was eventually expelled from for speaking his mind. Meanwhile, as a Communist government was elected to power, Dr. Mathew used his strong beliefs to protest and was thrown into jail twice for doing so. He found a good collegiate fit in St. Berchman's College, where he was awarded classic books like The Old Man and the Sea and The Good Earth for winning academic competitions – and thus his love of reading and learning really took off. After reading the Old and New Testaments, Dr. Mathew dove into over 20 years of research, poring over every document he could get his hands on. The result is his new book, Joshua: The Odyssey of An Ordinary Man. Dr. Mathew went on to earn several post doctoral diplomas and has practiced medicine on four continents. An accomplished Senior Interventional Cardiologist and Clinical Assistant Professor of Medicine, Dr. Mathew resides in Rochester.
Joshua: The Odyssey of an Ordinary Man can be purchased from amazon.com, barnesandnoble.com, apple.com, and joshuatheodyssey.com.