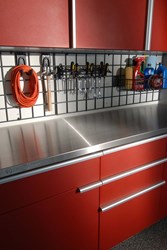 Orange, CA (PRWEB) August 30, 2013
For many men, the garage is their sacred space. Even more so when you're Graham Rahal, the youngest race winner in IndyCar history. When he was looking to outfit his man cave, it was only natural he turned to Tailored Living featuring PremierGarage; the industry leader in customized garage organizational and flooring systems.
"I wanted to convert my garage into a space that not only showcased my cars, but also acted as an organized and functional area for everyday use," said Graham Rahal. "Tailored Living did it all from start to finish, including design, measuring and installation. This is the second garage they've done for me and I couldn't be happier with the end result!"
To celebrate the spirit of car racing, Tailored Living offers design and organizational solutions for race car enthusiasts within any budget. You can choose flooring, cabinetry and accessory solutions in the colors of your favorite driver's car and continue your theme with the decorative memorabilia of your choosing.
Tailored Living consultants use D'Vinci™ – a proprietary interactive design tool that allows them to complete garage designs in minutes, right in front of the customer. The program comes complete with stunning visuals and an accurate parts list for every project. The combination of vivid graphics and virtual walkthrough capabilities creates a powerful presentation tool that helps homeowners select the best product solutions to fit their needs.
"We are in the business of creating time-saving organizational solutions that fit every lifestyle and taste," said Dan Tafoya, Senior Vice-President of Tailored Living. "With today's busy schedules, an organized home and garage environment frees up more time to spend on meaningful things such as family and hobbies. Our expansive product line provides solutions for every room in a home, from the smallest apartments to the most luxurious mansions."