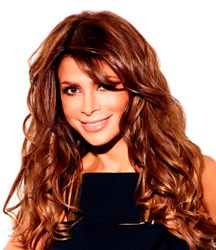 "Last year, Reagan touched my heart with her ambition to dance and I was instantly inspired to want to do more for those affected by muscle disease," said Abdul.
Tucson, Ariz., (PRWEB) August 28, 2013
Two-time Emmy Award winner, Grammy Award winner, and multi-platinum recording artist Paula Abdul will make her second consecutive appearance on the MDA Show of Strength Telethon Labor Day weekend, Sunday, Sept. 1, 9/8c, on ABC television stations across the country.
Abdul, a groundbreaking choreographer, performer, actor and business woman, will introduce MDA families who are sharing their stories of strength during the 48th annual telethon. Abdul will make a particularly special presentation to 8-year-old Reagan Imhoff, who is affected by spinal muscular atrophy (SMA), by surprising her with her first pair of ballet pointe shoes following country star Lee Ann Womack's performance of "I Hope You Dance." (See a sneak peak of Reagan's 2013 telethon profile)
"Reagan has always wanted to be a dancer and has talked about dancing pointe ever since she started ballet," said Regan's mother, Jenny Imhoff. "For Joe and me to watch as Paula surprised Reagan with her very own pair of pointe shoes was truly magical, and something we will never forget. She's always wanted a pair 'just like a real ballet dancer,' and that gesture certainly made her feel like one — she wore them the rest of the night!"
Abdul and Reagan's friendship began after meeting at the 2012 MDA telethon. Reagan lived out her dream when she starred in a moving dance performance, done from her power wheelchair; the segment was a highlight of the 2012 MDA telethon.
"Last year, Reagan touched my heart with her ambition to dance and I was instantly inspired to want to do more for those affected by muscle disease," said Abdul. "I know Reagan dreams of becoming a dancer, so I am honored to be part of this special moment that I hope encourages her, and all MDA families who are fighting courageous battles against muscle diseases, to live their dreams no matter what."
This week Abdul helped raise awareness for MDA by taking part in an exclusive "Fighting Muscle Disease" Twitter chat event on Aug. 27, along with ABC's Chief Health and Medical Editor Dr. Richard Besser, MDA families, and MDA clinic team members and researchers. A full transcript of the chat is available on ABC's website.
In addition Abdul's appearances, the 2013 telethon will feature a star-studded celebrity lineup, including: Ryan Seacrest; Backstreet Boys; country stars Luke Bryan, Darius Rucker and Lee Ann Womack; Enrique Iglesias; teenage pop sensation Austin Mahone; "Glee" star Matthew Morrison; hip-hop dance crew Jabbawockeez; "American Idol" runner-up Jessica Sanchez; Kenny Loggins with the Blue Sky Riders; American blues rock band Vintage Trouble; and Universal recording artist and star from "The Voice" Chris Mann.
Additional presenters for the 2013 show include: ABC's Dr. Richard Besser; "Dancing with the Stars" contestant and "Brady Bunch" mom Florence Henderson; Emmy award-winning journalist Jann Carl; Olympic gold medal gymnasts Nadia Comaneci and Bart Conner; and No Doubt drummer Adrian Young and his son Mason.
About MDA Show of Strength Telethon
The MDA telethon is one of America's longest-standing and beloved fundraising and entertainment events. For 48 years, funds raised by MDA telethons have contributed to the organization's worldwide research program. Today, through current clinical trials, there is growing excitement that new lifesaving treatments and discoveries are on the horizon for many of the disorders MDA is dedicated to defeating, including Duchenne muscular dystrophy (DMD), spinal muscular atrophy (SMA) and amyotrophic lateral sclerosis (ALS).
As in the past, the entertainment event will raise funds and awareness to support MDA's mission to help children and adults affected by progressive and often fatal muscle diseases.
While the telethon has consistently enjoyed robust support from some of the biggest celebrities in show business, the real stars on the telethon are the individuals and families served by MDA.
MDA's first Labor Day weekend telethon was broadcast in 1966 on a single New York station and has become the most successful fundraising event in the history of television. The show, with Jerry Lewis as its iconic host through 2010, and with help from a legion of top celebrities and entertainers, has raised millions of dollars each year to provide life-enhancing support and services to the families MDA serves.
Visit mda.org/muscle to learn more about the 2013 MDA telethon.
About MDA
The Muscular Dystrophy Association is the world's leading nonprofit health agency dedicated to finding treatments and cures for muscular dystrophy, amyotrophic lateral sclerosis (ALS) and other neuromuscular diseases. It does so by funding worldwide research; by providing comprehensive health care services and support to MDA families nationwide; and by rallying communities to fight back through advocacy, fundraising and local engagement. Visit mda.org and follow us at facebook.com/MDAnational and @MDAnews.