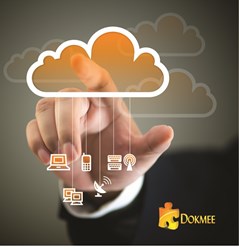 Houston, TX (PRWEB) August 28, 2013
Unlike most of the other Cloud solutions out there, Office Gemini offers a true cloud document management software. Not just a drive on the internet to share one's documents; Dokmee Cloud has all the features of a real EDMS (Electronic document management software). Dokmee Cloud is now a full 2GB (2,048 Megabytes) of data, free of charge with no time limitations. Of course, for those who need larger capacity, it is available for as low as $0.89 per GB.
Dokmee Cloud has high-performance capabilities that enable users to input, store, and access files securely from any location. Authorized end users benefit by being able to tap into the Cloud and gain full functionality allowing them to access and process work immediately. When using Dokmee Cloud one can benefit from the drag-and-drop functionality, user-friendly tool tips, and having one centralized location to find the end user's documents. When looking for a Cloud solution, security should be top priority. Dokmee Cloud can assure that the files are safe and secure by using its 192 encryption and the security that comes with a data center hosting service. With the increase of data storage, Dokmee Cloud allows one to manage more of the everyday files that include E-mail, Word Documents, Spreadsheets, PDF's and Images.
New with Dokmee Cloud is the Annotation feature. This feature permits the user to make changes on the document or image that has already been uploaded and saved into Dokmee Cloud. The Annotation feature allows the user to highlight text, draw lines and shapes and type in comments on to the document or image. Once the annotations are done, the user has the choice to replace the original or save it as a new version.
Through the use of Dokmee Cloud, documents are easier to manage and the user never has to worry about a server crashing or loss of files. A company could also reap other benefits from using mobile devices or tablets to reduce the usage of paper and ink, increase collaboration and improve mobility. Dokmee Cloud offers the ability to have documentation stored and hosted in one place, with immediate access when internet connection is available. Dokmee Cloud provides more storage capacity that delivers efficiency, optimizes maintenance, and maximizes your company's efforts to become paperless. For a complete list of hosting options please visit http://www.dokmee.net/cloud-document-management.html.
About Office Gemini:
Office Gemini is an international software manufacturer focused in the document management and document scanning industry. Office Gemini distributes its software products through a vast worldwide network of value-added resellers (VARs). From great software products and implementation assistance to strategic document management and scanning consulting services, we are able to provide a wide range of services to our end users and VARs equally. Our sales and support specialists are not only experts on our own software products, but are also very knowledgeable about the industry as a whole and can help with complementing software and hardware products. The flagship software Dokmee is used by thousands of customers in more than 30 countries and is available in 16 languages. Office Gemini is headquartered in Houston, Texas and has offices in Europe and Brazil. For more information on Dokmee and Office Gemini, please visit http://www.dokmee.net/ and http://www.officegemini.com/