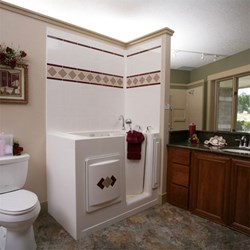 Enter Promo Code: SAVE
Boston, MA (PRWEB) August 28, 2013
An online walk in bathtub retailer, Aging Safely Baths announces a Labor Day weekend sales event on their wheelchair access roll in shower and walk in tub line. This once a year sales event will offer customers the opportunity to save money on specialty low threshold bathing appliances with hydrotherapy.
Customers can order their appliance to be delivered to a residential or commercial location. The company does not charge for freight to clients located within the continental U.S., however a drop ship service is available to residents who live in the United States or Canada.
This unique E-commerce Company potentially makes it easy for shoppers to order products online. The website boasts detailed product information, high resolution photos, installation guides and schematics that line out the measurements. When selecting the correct step in tub or wheelchair access roll in shower there are a few important factors to take into consideration.
One of the more important things to consider is ensuring the body size of the bather is appropriately matched with a tub or shower that's right for their unique body size. Having a bathing appliance that is too large or too small may present potential hazards. Another essential variable to consider is making sure the walk in bathtub or low threshold shower stall can fit into the bathroom. In some instances with showers that are not multi-piece or one piece bathtubs, the entrance door needs to be widened. In some cases this is not feasible and other options might need to be considered.
According to Aging Safely, for this special sales event clients will be able to purchase specialty showers or tubs that can be installed by a contractor in residential or commercial locations. Nursing homes and organizations that cater to the elderly or disabled can also potentially benefit from these substantial limited time price reductions. On select products the company will also be offering mail in rebates which may further help offset the initial investment.
Updating a bathroom to make it potentially safer and less accident prone can take some work, however there are incredible technologies that are designed to help minimize dangerous falls from occurring. Aging Safely is a company that is known for their high quality reputable brands, yet they are also well known for offering prices on quality bathroom appliances that are among the lowest in the nation. They even consistently have prices that beat out the major box stores.
In addition, the company offers one on one service to customers. Their staff is capable of answering important questions that some of the non-specialty stores may have a hard time answering. Those interested in more information on these unique products and this sales event should visit http://www.walkbathtubs.com or contact their customer care department. Commercial organizations and senior communities can also qualify for volume pricing incentives when more than one appliance is purchased at a time.
Contact Information:
Zachary Wennstedt
720-495-5497
info(at)walkbathtubs(dot)com