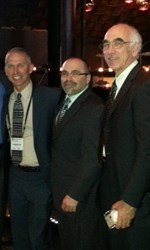 With continued education, research and advocacy, we can continue to reduce the number of fatalities and keep young athletes safe while playing the sports they love.
New York, NY (PRWEB) August 28, 2013
Most recently, the NATA released a consensus statement titled, "Preventing Sudden Death in Secondary School Athletics Programs: Best Practices Recommendations." The inter-association task force recommendations, published in the July/August issue of the Journal of Athletic Training (JAT), provide secondary school officials and involved medical personnel with best practices for establishing emergency action plans, providing appropriate medical care, and other educational information to help prevent sudden death in sports. Focusing on secondary school athletes is essential given that statistics show this population "leads the nation in athletic-related deaths" according to the task force publication.
Injuries and conditions of primary concern are head and neck injuries, including concussions; heat illnesses, specifically exertional heat stroke (EHS); sudden cardiac arrest (SCA); and exertional sickling. Other areas of concern that contribute to increased risk for student-athletes include poor – or lack of – emergency action plans (EAPs); absence of appropriate medical staff, namely certified athletic trainers (ATs); lack of emergency equipment, like automated external defibrillators (AEDs); and poor or improper acclimatization and conditioning plans.
"Most deaths are preventable through proper recognition and emergency protocols," said Task Force Chair Douglas J. Casa, PhD, ATC, FNATA, FACSM, director of athletic training, University of Connecticut Neag School of Education. "These best practice recommendations serve as a roadmap for policy consideration regarding the safety of secondary school athletes. We have addressed the leading causes of sudden death in this age group. With continued education, research and advocacy, we can continue to reduce the number of fatalities and keep young athletes safe while playing the sports they love."
Casa, who has chaired multiple NATA research statement groups in the past for other athletic populations and risk areas, added, "I feel as though this is the most important document I have done in my career." Published NATA statements under his leadership include the NATA Position Statement: Preventing Sudden Death in Sports (2012), The Inter-Association Task Force for Preventing Sudden Death in Collegiate Conditioning Sessions: Best Practices Recommendations (2012), Preseason Heat-Acclimatization Guidelines for Secondary School Athletics (2009), and Inter-Association Task Force on Exertional Heat Illnesses Consensus Statement (2003).
"I think the new Recommendations document is well done – comprehensive and user-friendly," states Paul Lasinski, ATC, who chairs the NYSATA Secondary School Committee and serves as liaison on the NYSPHSAA Health and Safety Committee. "ATs – and schools without them - can use this to improve their policy and procedure documents – and school administrators should be more motivated to establish and approve these as standing orders."
Lasinski, who has been an athletic trainer at the secondary school level for over 25 years on Long Island, added, "It can be difficult to come up with this type of document for secondary schools because of so many different [AT] job descriptions and the magnitude of trying to take care of over 200-300 athletes in one season. The document definitely establishes a best practice way of doing things. Now districts must follow these guidelines or risk being held liable if there is an issue with the way an injury or situation was handled."
As the Chief Operating Officer for the Korey Stringer Institute, Casa was featured on ESPN's Outside the Lines about exertional heat illnesses on August 11, 2013, along with NATA President Jim Thornton and co-founder of Advocates for Injured Athletes, Beth Mallon, whose son survived a catastrophic sports injury thanks to the presence of a certified athletic trainer and well-educated teammates.
Closer to home, Casa represented KSI by presenting on heat and hydration considerations for athletes at the Cayuga Lake Triathlon Sports Medicine Conference in Ithaca, NY on August 3, 2013.
The Korey Stringer Institute, whose mission is to provide first-rate information, resources, assistance, and advocacy for the promotion of prevention of sudden death in sport via health and safety initiatives, also held their Benefit Gala in New York City on April 23, 2013. The Gala was attended by three NYSATA members, Don Hovey, MS, MEd, ATC of the Brooklyn Friends School, Nicole Hovey, MS, ATC, of St. Ann's School, and Kent Scriber, EdD, ATC, PT, FNATA, longtime faculty member at Ithaca College. Scriber was acknowledged during the awards ceremony for his role in quickly recognizing exertional heat stroke in a distance runner back in the mid-1980's and acting swiftly, ultimately helping to save the life of Doug Casa. Casa has since dedicated his professional life to preventing sudden death in sport, with leading research in the area of exertional heat illness.
KSI has a number of initiatives that cover a wide range of health and safety issues involving youth, recreational, high school, college and professional sports. One of the their current objectives is to get all 50 states to develop heat acclimatization guidelines for high schools, based on the previously mentioned Preseason Heat-Acclimatization Guidelines for Secondary School Athletics (2009). Currently, there are nine states that have adopted minimum guidelines, and 15 more, including New York, are working with KSI to attain minimum standards.
NYSATA, founded in 1976 and incorporated in 1989, stands to advance, encourage and improve the profession of athletic training by developing the common interests of its membership for the purpose of enhancing the quality of healthcare for the physically active in New York State. Comprised of over 1,200 certified and practicing athletic trainers, NYSATA is the state-wide affiliate of the regional Eastern Athletic Trainers' Association (EATA) and District Two of the National Athletic Trainers' Association (NATA).