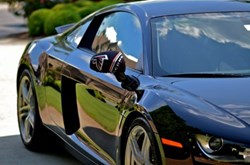 Atlanta, GA (PRWEB) August 30, 2013
With the arrival of football season, the time to display team spirit for tailgating is here. Showing team sprit on the way to, during and after a sporting event is no new phenomenon. The highly popularized car flags sound like a great idea at first, yet upon closer inspection, they have drawbacks. They are noisy, they fray and unravel over time, they can obstruct views, they will fall off if the window is rolled down and perhaps most importantly, they increase fuel consumption.
According to http://www.dailyfueleconomytip.com , "when you have these flags attached to your car, you are dramatically increasing the amount of drag on your vehicle. This means your car's engine has to work harder to get up to and maintain speed."
Car aerodynamics are carefully engineered and tested, so it is no surprise that adding flags alters aerodynamics. According to owner.ford.com, overcoming wind resistance will "cut down your fuel efficiency, especially at high speeds." The science is simple: The harder your engine works, the more gas you waste.
DMV.org gas saving tips states that people should "remove the flag of your favorite sport team. Your team will survive this loss of outward support, and, better yet, your vehicle's aerodynamic drag will improve."
But many die-hard sports fanatics do not want to do away with the outward support of their team, while tailgating or just riding around town. A small Atlanta company has addressed this issue and offers a more aerodynamic option: side view mirror covers. Gameday Covers is a female owned and operated company that offers side view mirror covers to outwardly support fans' favorite NFL, NCAA, MLB and NHL teams.
Sue Allpass, President of Lifesong LLC, the parent company to Gameday Covers, said "when we did market research, we heard the same complaints over and over. Many people don't like the look of the window flags, window flags are too noisy, and window flags increase fuel usage." Gameday covers wanted to create a product that is "aesthetically pleasing, not audibly distracting, very budget-conscious, easy to use, and most importantly, fun," said Allpass.
The car side view covers offered by Gameday Covers slide on and are then secured with Velcro. They do not impede normal mirror function, come in two sizes and are under $13 a pair.
Launched in 2011 by two female sports fans in Atlanta, Gameday Covers designs affordable and user-friendly, officially licensed NFL, NCAA, MLB and NHL car side view mirror covers, as well as custom designed covers. Gameday Covers are easy to slide on, maintain normal mirror function, and do not alter the aerodynamics of a vehicle. Gameday Covers prides itself on excellent customer service, in addition to offering a patented, unique, high quality product to consumers. For more information about Gameday Covers for Gameday lovers, please email info(at)gamedaycovers(dot)com, call 877.554.5954, visit http://www.gamedaycovers.com, follow us on Twitter @gamedaycovers, and like us on Facebook http://www.facebook.com/GamedayCovers.
###
For more information about this topic, or to schedule an interview with Sue Allpass, please call Sue Allpass at 404/518-7344 or e-mail Sue at sue(at)gamedaycovers(dot)com