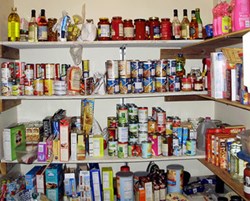 For families on a budget who want to be prepared for natural disasters like hurricanes, earthquakes & tornadoes.
Las Vegas, NV (PRWEB) August 28, 2013
ReadyForTheWorst.com, an emergency survival blog, has released a new program on long term food storage for families.
The name of the new program is Frugal Food Storage Secrets, and is designed for families on a budget who still want to have enough food tucked away safely in case of a natural disaster.
Created by Sarah Stafford, Founder of ReadyForTheWorst.com in response to people asking for an easy, step-by-step video program on how to store food for emergencies.
"In the last few years, just here in the USA, we have seen Hurricane Katrina, Super Storm Sandy, midwest floods and multiple devastating tornadoes," says Sarah Stafford, "People watching the news quickly realized it was almost impossible for people in those disaster areas to get food, and they needed to have food safely stored away for their family."
According to Stafford, the program is designed to help a family store enough food for any emergency in four weeks of preparation. And to have enough water and other essential supplies like medical supplies, batteries, flashlights etc.
It also includes a section on food for pets so your families 4-legged members won't go hungry.
"I provide a full list of resources on food storage containers, recipes, how to buy in bulk to save money, and where to get 'prepper' foods," Stafford said, "I've done all the research for you, so you can focus on getting ready... fast."
Stafford says she is on a mission to educate others to become more self-sufficient so they can be ready for any crisis that might occur.
"When I first started my prepping, I remember feeling pretty overwhelmed by all the things that needed to be purchased and all the things that needed to be done." Stafford said, "This course was created to make food storage easy."
A detailed YouTube video about the new program can be found here: https://www.youtube.com/watch?v=6YJtX_G6s2M.
#####
Sarah Stafford is a food preservation and storage expert. She writes about self-sufficiency, emergency preparedness, and survival on her blog ReadyForTheWorst.com. She is the author of the Bullion Bible, a precious metals buying course. And the co-author of the preparedness course Rawles Gets You Ready with James Wesley Rawles, publisher of the top ranked SurvivalBlog.com.