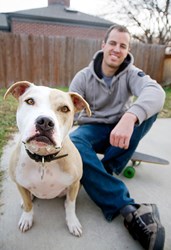 Every American who follows the right safety rules as a responsible dog owner should be allowed to own whatever breed of dog they choose.
Kanab, Utah (PRWEB) August 28, 2013
A statement from The White House calling breed specific legislation (BSL) "a bad idea," underscores an emerging trend of states moving toward passing legislation that creates safe and humane communities for both people and pets -- and away from breed discriminatory restrictions.
This year alone, three states – Nevada (Assembly Bill 110, sponsored by Assemblyman James Ohrenschall), Connecticut (House Bill 6311 sponsored by Representative Diana Urban) and Rhode Island (House Bill 5671 sponsored by Representative Thomas Palangio)– have passed laws that prohibit cities and counties from banning or restricting dogs because of their breed. This brings the total number of states that prohibit breed discrimination in the U.S. to 16.
"Best Friends Animal Society supports decisions by nearly a third of our states to prevent breed discrimination," said Ledy VanKavage, the national organization's senior legislative attorney. "Every American who follows the right safety rules as a responsible dog owner should be allowed to own whatever breed of dog they choose."
The movement away from breed bans is based on studies that show laws targeting dogs based solely on breed are ineffective in reducing dog bites, difficult and expensive to enforce, violate basic property rights and punish responsible dog owners and innocent family pets. Studies show that breed is not a factor in the number of bites, so more jurisdictions are enacting comprehensive breed-neutral ordinances that focus on the behavior of dogs and owners.
In fact, in its "Breed Specific Legislation Is a Bad Idea," statement on the We The People petition site last week, the White House said: "We do not support breed-specific legislation -- research shows that bans on certain types of dogs are largely ineffective and often a waste of public resources." (https://petitions.whitehouse.gov/petition/ban-and-outlaw-breed-specific-legislation-bsl-united-states-america-federal-level/d1WR0qcl)
Studies done in countries with breed-discriminatory laws, such as the United Kingdom, Spain and Germany, found that these laws didn't reduce the number of dog bites or improve public safety. Based on these studies and concerns about due process and property rights infringement, Best Friends Animal Society, the National Animal Control Association, the American Veterinary Medical Association, the ASPCA, and the Humane Society of the United States all don't support breed discrimination. The Centers for Disease Control also promotes breed-neutral approaches to reducing dog bites, based on their study of human fatalities resulting from dog bites. They found that many other factors beyond a dog's breed may affect a dog's likelihood of attacking, including reproductive status, heredity, sex, early experience and socialization and training.
Many comprehensive animal control laws historically have identified different degrees of bad dog behavior, with categories such as "Nuisance," "Potentially Dangerous", "Dangerous" and "Vicious" dogs. Newer ordinances require problematic dogs to be sterilized, microchipped and muzzled when they are off the owner's property.
More recent laws also consider the behavior of the dog's owner, and many cities are enacting provisions for reckless owners, including requirements to attend pet classes or prohibiting individuals from owning pets.
Another indication that breed discrimination is out of favor was the American Bar Association's House of Delegates' Resolution 100, passed in August 2012. The resolution states that the ABA "urges all state, territorial, and local legislative bodies and governmental agencies to adopt comprehensive breed-neutral dangerous dog/reckless owner laws that ensure due process protections for owners, encourage responsible pet ownership and focus on the behavior of both dog owners and dogs, and to repeal any breed discriminatory or breed specific provisions."
"We all want safe and humane communities," VanKavage said. "Communities should be protected against any dangerous dog, no matter the breed, and abused or neglected dogs should be protected from bad owners. Everyone benefits from a safe society – both people and pets. The simple truth is that breed discrimination doesn't work."
About Best Friends Animal Society®
Best Friends Animal Society is the only national animal welfare organization focused exclusively on ending the killing of dogs and cats in America's shelters. An authority and leader in the no-kill movement since its founding in 1984, Best Friends runs the nation's largest no-kill sanctuary for companion animals, as well as life-saving programs in partnership with rescue groups and shelters across the country. Since its founding, Best Friends has helped reduce the number of animals killed in shelters from 17 million per year to about 4 million. Best Friends has the knowledge, technical expertise and on-the-ground network to end the killing and Save Them All™.
To like Best Friends Animal Society on Facebook go to: http://www.facebook.com/bestfriendsanimalsociety
Follow Best Friends on Twitter: http://twitter.com/BFAS