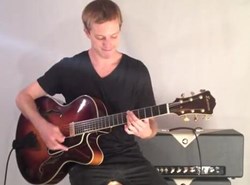 New York, NY (PRWEB) August 28, 2013
In the new guitar lesson, now available on YouTube, MacLennan demonstrates "common tone" a technique in which jazz guitarist plays a series of chords that all share one common note. This common note provides a consistent, steady tone, even as the player progresses through many different chords. Because of the repeating note, this technique is useful for ending songs or performing jazz turnarounds.
Using the closing chords from the song "Stella" by the band Starlight, MacLennan helps jazz guitarists pick up this technique by progressing through some common jazz chords.
The common jazz chord voicings in this lesson make it easy for even beginners to understand and learn this useful technique. The instructor describes the shape of each chord in the progression, telling guitarists where to place their fingers to get the rich jazz sound out of each chord while maintaining the common note.
A link in the video description provides chord diagrams and tabulatures so guitarists can take this jazz chord progression offline for further practice.
A Los Angeles-based session guitarist and composer, Guitar Control instructor Jon MacLennan earned a degree in ethnomusicology and jazz guitar studies from the University of California, and worked as an instructor for the Los Angeles Pierce College Department of Music. An accomplished jazz guitarist, MacLennan recorded guitar and ukulele for the hit Fox show Raising Hope; appeared on the Disney series The Suite life of Zach and Cody; and has composed, arranged, and produced three full length albums of his own.
MacLennan designed the Fast Track Guitar System, a 3-disc instructional DVD available through Guitar Control. In the Fast Track Guitar System, he expands on the basics covered in the YouTube video to teach advanced techniques for playing jazz, blues, rock, folk, and many well known guitar anthems.
GuitarControl.com is packed with resources, video tutorials and lessons, articles, and affordable DVDs to help new guitarists learn and experienced guitarists master their instruments. Guitarists of any experience level find guitar lessons from instructors with a broad array of music backgrounds and styles - blues, jazz, metal, classical, folk, progressive rock, punk, and everything in between. Guitarists can find relatable, easy-to- follow videos regardless of their ability or musical tastes.