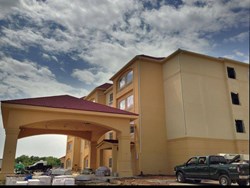 "We believe the ability to deliver for long term performance is a true measure of our performance."
Texas (PRWEB) August 29, 2013
All three hotels are brand new construction and will boast design and amenities that exceed franchise standards. The La Quinta Inn & Suites Fort Worth will be located on Interstate 30 and Eastchase. Demand generators will include Six Flags Over Texas, AT&T Cowboys Stadium, Hurricane Harbor, Fort Worth Convention Center, Fort Worth Stockyards, and many more. Kriya is excited to add their second La Quinta hotel in the submarket and hopes to deliver outstanding ramp up and performance similar to their other hotel, the La Quinta Inn & Suites Grand Prairie. Both the Hawthorn Suites San Angelo and Hawthorn Suites Midland will be brand new construction and will open 2014. Kriya is very familiar with the Hawthorn Suites by Wyndham brand since the purchase of the brand from Hyatt in 2008. Kriya went through the purchase and transition with Wyndham and has had a very successful relationship with Wyndham Hotels.
Kriya Hotels is thrilled to expand their relationship with Icon Lodging, La Quinta, and Wyndham with the management of these hotels. In addition to Operations Management Kriya will also be providing revenue management & business intelligence through their Kriya RevGEN service, Sales & Marketing through Kriya Sales, and online presence and internet marketing through Kriya Connect.