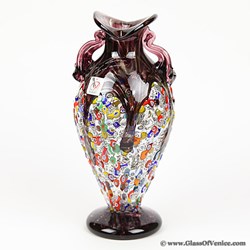 To help customers pick out Murano Glass pieces that have artistic and historical value, GlassOfVenice.com published quick and easy-to-follow tips on its website and blog.
Glen Rock, NJ (PRWEB) August 28, 2013
GlassOfVenice.com, U.S. leader in import and sales of Murano Glass from Venice, Italy, is launching a campaign to educate consumers on authenticity of Murano Glass and promote the value of Murano Glass made in Venice based on ancient techniques and traditions. Along with Murano Glass masters in Venice, GlassOfVenice.com is concerned with the large number of counterfeits flooding the art glass market and worried about the future of the unique and ancient art of Murano Glassmaking. To help customers pick out Murano Glass pieces that have artistic and historical value, the Company published quick and easy-to-follow tips on its website and blog. "If you want to make sure you buy authentic Murano Glass made in Venice, you really only need to evaluate a few things to make a quick and sound judgment. Things like the look and feel of the piece are obvious, but less apparent aspects such as the presentation of the products, the seller's reputation, availability of helpful staff, and product assortment also all need to be strongly considered", says Kevin Grinberg, the company's Head of Marketing. Here is the full list of GlassOfVenice's valuable tips.
1) Evaluate the item itself (or its photos if buying online)
Does the item appear to be hand-made displaying minor imperfections such as slightly uneven surface or texture, uneven pattern, or perhaps tiny bubbles inside the glass? Are the photos clear and professional showing the surface and texture of the glass? Can the photos be enlarged so you can clearly see the patterns? Are the colors bright and rich, infused in glass rather than painted on it? Does the description say "Murano Glass" (and not "Murano-style", "Venetian-style" or similar)? Does it talk about real gold or silver being used during production of the glass? You want to be able to answer YES to ALL of these questions when you are looking for a genuine article. Always look for the evidence of the hand-crafted nature of the items, good photos, rich colors and specific descriptions.
2) Evaluate the packaging and accompanying materials
Does the seller offer a certificate of authenticity stating the origin and the production process of the item? Does the certificate display any text in Italian language? Is special packaging offered with the item? Does the packaging look attractive and is it of good quality? Again if the answer is always YES you are on the right track.
3) Evaluate the seller
Is the selling company reputable? Does it share information about itself? Does it specialize only in Murano glass? Does the seller demonstrate good knowledge of Murano glass industry, techniques, production process, and history? Does it possess Italian background, education, or extensive travel experience to Italy? Does it offer a generous Return/Exchange policy? Are there knowledgeable and courteous customer service representatives and multiple ways to get in touch? Does the seller offer to work with you on procuring any custom items or items not in their inventory? Answering YES to these questions indicates the seller is likely to sell genuine Murano glass. On the flip-side, if the seller also sells lots of other cheap-looking jewelry and accessories, is known as a large seller of cheap household names, can't tell you much about Murano or Murano Glass, does not seem to have any links to Italy, you are probably looking at counterfeits.
4) Evaluate the seller's store or website
Does the store offer a wide range of Murano glass products that includes jewelry, home decor items and high-end Murano glass items such as vases, chandeliers, or art glass? Does it offer any Millefiori items? If so, is there a large variety of them and are they of good quality, displaying intricate patterns with many mosaic pieces in them, and rich colors? Millefiori is one of the most difficult Murano glass techniques and is harder to fake than many others. If it's a website, is it professional-looking and well-designed or flashy with lots of advertisements? Is there a real business address and phone number listed on the site? Look out for the addresses in Asia or in developing countries as this often is a counterfeit warning sign. Is it merely a large web portal selling lots of items from all sorts of sellers? Are any client testimonials or product reviews readily available on the site? Again, if you answered YES to these questions you can be reasonably sure that the store offers genuine Murano Glass.
In general, always trust your instinct and common sense when buying Murano glass. If something tells you "beware", try to find out as much information as possible from the seller, and if you are still not satisfied, just steer clear from it and look elsewhere.
About GlassOfVenice
GlassOfVenice.com is a top name in authentic Murano Glass. The U.S.-based Company has been in business since 2007 and focuses solely on sourcing, promoting and worldwide distribution of the highest quality Murano Glass. The company was founded by visionary businessmen with passion for Italy and Venice and appreciation of Venetian artistic heritage and Murano Glass. GlassOfVenice.com imports all its products directly from Venice and stocks them in its warehouse in New Jersey, U.S.A., making them available for immediate shipping. GlassOfVenice.com offers the full range of Murano Glass produced by the Island's artisans from jewelry and accessories to tableware and home décor, including vases, sculptures, and chandeliers. The products can be purchased on the company's full-featured and user-friendly website http://www.GlassOfVenice.com. Paypal and all major credit cards are accepted and worldwide shipping is available.