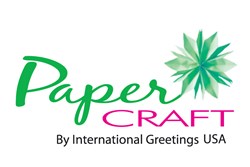 Midaway, GA (PRWEB) August 29, 2013
Worldwide industry leader PaperCraft Products, the wholesale greeting card suppliers, is introducing a brand new Spanish-language and Latino-themed gift card product program this month. This comprehensive program includes a wide variety of inexpensive greeting cards used for "every day" consumer purposes and those for special holidays, such as Christmas and New Year's Day. As this special greeting card market expands, PaperCraft anticipates Latino consumer needs.
As wholesale greeting card suppliers, PaperCraft has led the way in broad markets and other specialty markets over the last three decades. Recently, the company's marketing department has tracked Latino sales, which are on the rise. According to sales director Warren Herscovitz, "Latino greeting card manufacturing and sales has increased steadily, especially in the last ten years, despite the economic downturn at the end of the last decade." With their vast resources for leading design and high-volume manufacturing, "we are the top suppliers in operation today," explains Herscovitz.
The company has created nearly 70 new cards that cover an enormous variety of occasions for their Latino customers. These include birthdays, Thanksgiving, christenings, baptisms, weddings, communions, Easter and many more. The design team has artfully made colorful and eye-catching cards that appeal to both Hispanic adults and children worldwide.
As a greeting card supplier to major retail outlets like Target and Walmart, PaperCraft has connected millions of Latino customers and will expand its wares to fulfill their "everyday" needs.
Founded in 2010, PaperCraft by International Greetings USA is amongst the largest stationery, gift wrap and greeting card designers, importers, manufacturers and distributors in the world with offices and operation bases in the U.S.A., United Kingdom, Europe, and China.
The PaperCraft team is available for both mainstream national and regional online, print, radio and television interviews. Images and information about PaperCraft are available on: http://papercraftproducts.com
Contact:
PaperCraft‎ Sales Office
C/O International Greetings USA
3 Ravinia Drive, Suite 250
Atlanta, GA 30346
T:770-551-9727
F:770-512-7660
http://papercraftproducts.com