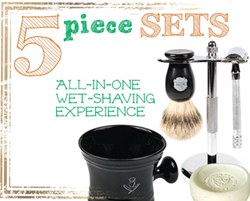 Toronto, ON, Canada (PRWEB) August 29, 2013
Kaliandee, the online retailer of men's shaving products and grooming tools, has expanded their selection of safety razor starter sets with a new range of 5 piece sets containing everything needed for an enjoyable, irritation-free shave. Additionally, six new products from the prestigious Taylor of Old Bond Street add to their selection of body care, aftershave and post-shave products, and travel shaving equipment.
Shaving with a double-edge safety razor or straight-edge (sometimes unfairly called a "cut throat") razor is undergoing a resurgence, and many men are now investigating how to get started in traditional wet-shaving. With many different styles of razor, standardizations for shaving brush hair grades (different definitions between manufacturers for terms such as "best badger" and "silvertip"...), and hundreds of different shaving soaps and creams available, choosing what to spend your hard-earned money on can be confusing for the beginner. Kaliandee, based near Toronto in Canada, have put together a selection of carefully chosen sets with tried-and-tested products capable of giving most men with most skin types a better shaving experience than they can achieve with a cartridge razor and modern gel or foam. These sets are an expansion on the already popular 3 pieces, brush, razor and stand sets.
All of Kaliandee's sets include a razor, brush, stand, shaving soap and shaving bowl, to ensure the kit is shave ready out of the box. One of the advantages of double-edge safety razors is their ability to accept blades from any manufacturer of double edge blades, allowing users to experiment with blades of different materials, sharpness and quality, and find what works best for them. To aid this experimentation, Kaliandee also now offer a 5 brand blade sampler pack containing 40 blades- several month's worth of shaving.
The complete sets all contain a razor from either Edwin Jagger of Sheffield, England, or Merkur of Solingen, Germany. Both are respected manufacturers of high-quality shaving hardware, from cities which have been known for the quality of their blades since medieval times. Although it is the razor that tends to attract the most attention from beginners, arguably the choice of brush is more important to shaving experience. With this in mind, the brushes in the complete sets are all from Simpsons or Vulfix, both brands based on the Isle of Man, both with a long history of handmade shaving brushes. Vulfix have a reputation for good quality entry-level to midrange brushes, while Simpsons, although good value, are strictly a high-end manufacturer.
Currently, the most high-end set on offer is probably the 5 item set featuring Edwin Jagger's iconic "Chatsworth" razor in chrome, and Simpsons "Commodore X2L" brush, with a dense best badger knot, for $237 (saving $19 over buying the set items individually). At the entry-level, for $118 you can get started with a pure badger Vulfix 1000A brush paired with the sturdy Merkur 23C long handled safety razor. Both sets are great introductions
Kaliandee have also recently expanded their inventory with six new Taylor of Old Bond Street products; the No. 74 Original and No. 74 Victorian Lime Aftershaves, Sandalwood and St James travel shave sticks, Eton College talcum powder and the soothing Alum Block.
About Kaliandee: Kaliandee is an online retailer selling high-end shaving and grooming essentials, gifts and accessories for men (although many women love using traditional men's products too!). With their passion for customer service and extensive knowledge of shaving and skincare, Kaliandee are dedicated to ensuring North American men find the best products for their needs, and to helping them get the best out of those products.
For more information on getting started with wet-shaving, see Kaliandee's advice page or blog.