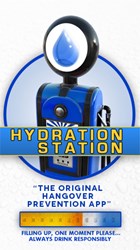 I was fed up with hangovers and spent two years developing the math behind hydration station. - Jason Sirotin
Atlanta, GA (PRWEB) August 28, 2013
Hydration Station is a tested and verified hangover prevention application that sends users hilarious custom voice reminders to drink water while consuming alcohol to prevent dehydration. Hydration Station is available for the launch period at the introductory price of just $0.99! This price is only available for a limited time, so Download HydrationStations from the App Store today!
Hydration Station sends users custom voice reminds to drink water while consuming alcohol, preventing dehydration and more importantly it's by-product: the hangover. Hydration Station includes three free custom voice notifications (Austrian Strong Man, British Female, British Butler) with each voice having 10-12 drink reminders. Additional voices (Redneck Ron, Latin Lover, Insulting Robot, and Mobster) are available for $0.99 each.
Hydration Station uses two hydration modes to combat a hangover: "Optimize My Hydration" and "Set an Hourly Hydration Station Reminder". The "Optimize My Hydration" mode utilizes Hydration Station'sspecific water conversion table to most effectively counteract the effects of a hangover based on each drink type and quantity. The water reminders occur every hour and instruct the user to drink a specific amount of water based on the drinks consumed during that hour. With the "Set an Hourly Hydration Station Reminder" mode, users choose a hydration reminders every 30 minutes, hour, hour and a half or two hours. The hysterical Hydration Station voices will keep you keep you and your friends rolling in laughter while reminding you stay hydrated!
For more information on Hydration Station, please visit: http://www.hydrationstationapp.com.
About Apptacular, LLC
Apptacular is a full service mobile application design and development company founded by CEO Bridgett Snapp, CCO Jason Sirotin and CMO Judd Johns in 2012. With cross-platform experience in application development, marketing, graphic design, video and web production, Apptacular is suited to take on mobile projects of any scale.
About Brain Bytes Creative LLC
Brain Bytes Creative is a cutting edge web development and internet marketing agency that also touts the ability to create and develop custom software applications for smartphones, tablets, and the web. Based out of Atlanta, Georgia, Brain Bytes has been taking high profile projects from womb to tomb for over 4 years.
For more information about their portfolio and list of services, please visit: http://www.brainbytescreative.com.
About Apptitude
Founded in 2012, Apptitude is a full stack mobile app development studio headquartered in New Orleans, Louisiana. The company has a skilled team of developers and designers that help businesses, entrepreneurs, and organizations create smartphone apps with an emphasis on design, performance, and usability. Apptitude additionally offers social media, public relations, and marketing solutions for the successful launch and promotion of apps.
For more information, please visit: http://www.apptitudenola.com.
Media Contact:
Judd Johns
CMO Apptacular
504.559.1755
judd(at)apptacularllc(dot)com