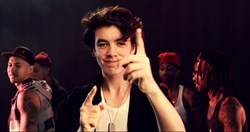 It's a great feeling to create a video of my own music that others can enjoy, while bringing the message of my song to life.
Los Angeles, California (PRWEB) August 30, 2013
Entertainment industry professionals use the term "Triple Threat" to describe an emerging talent that can act, sing and dance. For the great stars of yesteryear, this was usually a given. Pierce Driessen is going two steps further, adding songwriting and guitar playing to his trio of innate talents to become, in effect, a rare "Quintuple Threat". Singer/songwriter/musicians of note who also wear the five-star mantle include Prince, Madonna and Sting, and by industry standards, they've each done very well. What makes Pierce even more special in this regard is that, at 14 years of age, he's already got a tremendous skill set, great stage presence, a professional attitude and a well-balanced team of creative associates and mentors. This kid is in the driver's seat.
But Pierce also has his feet on the ground, having fun and doing things most school-age teens like to do while growing up in this high-tech age. "I love watching and sharing music videos with my friends because it makes me feel more connected to the artists," said Pierce during a break while shooting his debut video, "Start This Over". Pierce added, "It's a great feeling to create a video of my own music that others can enjoy, while bringing the message of my song to life."
Vocal coach and artistic development mentor Valerie Fahren noted that Pierce's simultaneous progress in several artistic skills came solely through his focus and persistence to excel in all aspects of the crafts. "Developing as a top-tier singer is challenging enough for most aspiring artists," noted Ms. Fahren, "but when Pierce played me his original song ideas, I knew we had to nurture that talent as well."
When the time came for Pierce's first video, his song "Start This Over" was a logical choice. Not only is the song fresh and contemporary thanks to co-writer/producers Michael Jay, Dex Nicholson and Wayne C. McDonald, but Pierce had the idea for the story that plays out. Through the magic of video, Pierce wanted to be able to "turn back the clock" to the time just before his relationship with a cute ballerina went south. The concept worked beautifully as scene after scene features this reverse-effect; letting the viewer see how many times and places things that went wrong could have been prevented; a rather mature viewpoint for a 14-year old boy.
And it's only the beginning. Pierce Driessen is poised to be a brave new voice in the Pop music world, with a message for the younger crowd that's not only entertaining and fun, but promotes human virtues as well. Keep an eye on this rising star... he may be out of reach sooner than you think.
Contact: Valerie Fahren at valerie(at)valeriefahren(dot)com
Official Web Site: http://www.piercedriessen.com
"Start This Over" song video: http://www.youtube.com/watch?v=dd1jEANgXD0