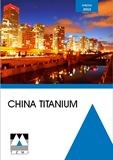 An insightful editorial is provided by TZMI's analysts in China, summarising market trends alongside a market dashboard.
(PRWEB) August 30, 2013
TZMI is pleased to announce the launch of two monthly newsletters focused on titanium and zircon in China. These new reports provide coverage of regional market segments that are widely recognised as difficult to maintain up to date and relevant information.
The reports draw on multiple sources of market information such as trade, pricing, industry news and market analysis, plus TZMI's extensive database built up over more than 20 years for titanium feedstock, titanium pigment and zircon.
An insightful editorial is provided by TZMI's analysts in China, summarising market trends alongside a market dashboard illustrating a snapshot of key indicators such as trade, pricing and growth.
Published in the first week of each month, China Titanium covers titanium dioxide pigment, ilmenite, titanium slag, titanium tetrachloride, while China Zircon covers zircon sand, zircon concentrates, zircon opacifier, zirconium oxychloride, fused zirconia and zirconia.
Each publication provides import and export analysis accompanied by volumes, pricing and trend data displayed graphically. Relevant pricing data is provided, including that of the raw materials before the major economic trends are explored. Research is carried out by TZMI's Shanghai experienced team of analysts.
Both publications wrap up with production volumes for four key downstream industries and analysis of industrial trends that will impact the titanium and zircon industries in the future.
China Titanium and China Zircon both also provide a monthly wrap-up of China-based industry news, not usually available in English along with TZMI's commentary on the relevance and impact of each news item.
China Titanium and China Zircon are available for purchase as a 12-month subscription and are the only comprehensive reviews of the Chinese titanium and zircon industries direct from China.
If you would like more information about how to order TZMI's China Titanium or China Zircon or to request a sample copy of either publication, please contact marketing(at)tzmi(dot)com.
About TZMI
TZ Minerals International (TZMI) is a global, independent consulting and publishing company with offices in Australia, China, the US and South Africa. The strength of TZMI's consulting services stems from extensive practical experience in the mineral sands, titanium dioxide and coatings industries and from a comprehensive database, which has been built up over many years.
TZMI has proven expertise gained from our consultants having many years of direct operating experience in the industry in chief executive, senior operational, analytical and marketing roles.
TZMI's publications and data services support the consulting activities and ensure up-to-date, high quality and comprehensive data, analysis and information across the mineral sands, zircon and TiO2 pigment industries.
TZMI provides operational and technical expert advice on many areas including:

Mergers and Acquisitions
Market Assessments and industry analysis
Due diligence
Pre-feasibility studies incl. preliminary capital and operating cost estimation
Competitive cost analysis and benchmarking
Technical reviews and audits
Resource assessments
Physical separation test work
Flowsheet development
Customised data analysis and reporting
FURTHER INFORMATION
Tracey Kelly – BD and Marketing Manager
TZ Minerals International Pty Ltd
E: tracey.kelly(at)tzmi(dot)com
P: +61 8 9359 6000