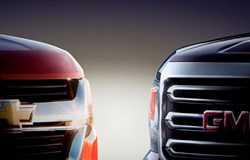 "This is one of the most exciting auto show seasons in history, and autoMedia.com can prepare any car nut for the upcoming debuts before they even hit the stage," said autoMedia.com founder Doug Hamlin.
Torrance, CA (PRWEB) August 29, 2013
Automakers work around the clock to bring new vehicles to market, and very soon their handiwork will be unveiled during a series of auto shows around the world. To prepare their readers, autoMedia.com has compiled a list of the ten most anticipated new 2014 and 2015 models that will be gracing the stage and then local dealerships. The article, Top 10 Biggest Upcoming Vehicle Debuts, details new launches from the biggest brands in the world, each set to stake a unique claim in the automotive industry.
Car fans are always looking for the next big thing, and new models are being rolled out that are more impressive and more attractive than ever. These cars are not just important because they're about to go on sale; they're important because they will shape the future of new vehicles – in terms of both design and performance – for years to come.
Interest is high for 2014 and 2015 new vehicles, with auto sales up across the country, so the autoMedia.com article highlights new models in all price segments and performance classes that are sure to turn heads. Most will be on sale by this time next year – others don't have any definite sale date, or even debut date, at all. What we know for certain is that the public is waiting with baited breath for these potential game-changers from the biggest automakers in the world.
"The automotive industry is always changing and always evolving, and the upcoming shows in Frankfurt, Los Angeles and Detroit promise to deliver some of the most exciting vehicle debuts in history," said autoMedia.com Founder and CEO Doug Hamlin. "Anyone interested in buying a new car should take note of what's coming on the horizon before they make any decision. The list highlights all shapes and sizes of exciting new cars, and potential buyers can use the autoMedia.com New Cars buying guide to research and cross-shop the competition before these new models debut."
The list features the most exclusive and highest-performance new models, as well as intriguing vehicles for the eco-minded or budget conscious.
One of the big battle shaping up is between German luxury brands. The all-new 2015 Audi A8 has already shown itself, but we will finally see it in the flesh at Frankfurt in a few weeks. It's chief competition is the Mercedes-Benz S-Class luxury sedan, and while that has also already debut, Mercedes may be one step ahead with their long-awaited S-Class Plug-In Hybrid that is also set for Frankfurt. Not to be outdone, the other member of the German Big Three will be represented by the brand new BMW M4 that has track regulars salivating.
The American Big Three have big things ahead, too. Los Angeles will see the return of the Chevrolet Colorado compact pick-up, and Detroit could welcome the all-new 2015 Ford Mustang exactly 50 years after the original debuted. The next twelve months will also hopefully see the unveiling of the 2014 Chrysler 100 coupe, though no one knows whether or not that model is coming for sure. In the meantime, the Porsche Macan will likely steal the show in L.A. and the new Mazda3 and Mini Cooper are small cars that can command big headlines as well.
"It won't be long before new vehicles in all price ranges are packed with innovative technology, and autoMedia.com will keep readers on top of these advances as they continue to come to market," said Hamlin.
"This is one of the most exciting auto show seasons in history, and autoMedia.com can prepare any car nut for the upcoming debuts before they even hit the stage," said Hamlin.
Keep checking autoMedia.com for the latest news, photos and analysis from around the automotive industry.
About autoMedia.com: The auto website was launched in September 2000 by a team of automotive editorial, design, and publishing professionals, with the goal to be the premier provider of quality automotive content on and for the Web. Today it features over 92,500 pages of original articles, including over 2,500 features researched and written by leading automotive experts, covering new and used car buying, new vehicle previews, road test reviews, car care maintenance, professional driving advice, and technology. Automotive enthusiasts and new car shoppers can read about the latest industry news, pricing, rebates and incentives, view photo galleries and research details on all makes and models. For more information, visit autoMedia.com.