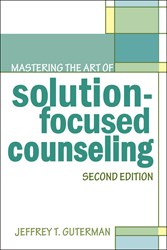 (PRWEB) August 29, 2013
In the new, revised Second Edition of "Mastering the Art of Solution-Focused Counseling" (published by American Counseling Association), author, educator and world-renowned counselor Jeffrey Guterman updates his best-selling book to provide a comprehensive book for mental health.
The most current trends in solution-focused counseling are explored in the latest edition of this updated and expanded text scheduled to be published by the American Counseling Association in May 2013. Dr. Guterman provides a comprehensive and straightforward discussion of solution-focused theory and describes how the model can be used throughout the therapeutic process. Clinical techniques and detailed case studies illustrate counseling with clients experiencing a range of problems, including depression, substance abuse, grief, morbid jealousy, and trichotillomania. New chapters and sections in this edition address anxiety, eating disorders, migraine headache, psychosis, spiritual and religious problems, self-injurious behavior, and suicide. Additional features include excerpts of dialogue from actual counseling sessions, sample forms and supplementary materials, and troubleshooting tips for getting unstuck in difficult cases. The final chapter titled "The Future of Solution-Focused Counseling" considers new directions for the model as well as developments in research, clinical settings, and technology.
"Mastering the Art of Solution-Focused Counseling" (Second Edition)
By Jeffrey Guterman
Softcover | 336 pages | ISBN 9781556203329
Available at American Counseling Association and Amazon
To Purchase: http://JeffreyGuterman.com
Reviews and Testimonials
This 2nd edition is comparable to experiencing the latest model of a fine luxury car. While you may have thought improvements could not be made, the upgrade is noticeable, pleasing, professional, and surprising. Dr. Guterman gets his points across in interesting ways that make the trip through this book enlightening, delightful, and worthwhile.
— Samuel T. Gladding, Ph.D.
Wake Forest University
This is a wonderfully practical, user-friendly text that makes solution-focused counseling accessible. It is a must read, and I will be recommending it to all our students and graduates.
— Anne Hearon Rambo, Ph.D.
Nova Southeastern University
Clearly a master clinician, Jeffrey Guterman has done the helping professions a tremendous service by writing this rare and outstanding book. His decades of experience, clinical wisdom, and intellectual depth shine through in this text, which will be of great use to everyone—from beginning students to experienced practitioners.
— James T. Hansen, Ph.D.
Oakland University
Mastering the Art of Solution-Focused Counseling is a great read. Guterman's writing is not dull at all. This book has given me an avenue in working with short-term concerns.
— Fred J. Fritz
About the Author
Jeffrey Guterman, Ph.D. is a Licensed Mental Health Counselor in Florida and a Qualified Supervisor for Marriage and Family Therapists and Mental Health Counselors in Florida. He has worked in various clinical settings since 1985. Dr. Guterman holds a B.A. in psychology from Boston University, and an M.S. in counseling psychology, an M.S. in family therapy, and a Ph.D. in family therapy from Nova University. He was associate editor of the Journal of Mental Health Counseling from 1997 to 2000. He is author of over 125 publications, including the best-selling book Mastering the Art of Solution-Focused Counseling published by the American Counseling Association. He has presented numerous workshops for professionals, students, and the general public.