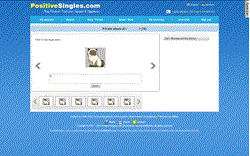 Los Angeles, California (PRWEB) August 29, 2013
What is the Private Photo Album?
The private photo album is a newly introduced feature on the website PositiveSingles.com. It is a display of the commitment to ensuring member's privacy is protected.
The Private Album feature allows members to retain control of who has access to view the private photos.
If members have some photos that they would like to share only with a few carefully selected members of our community, then they will able to do that using the new feature. With Private Album members can select the photos they want and save them in this special folder when they upload them from computer. Members can then select which users they want to grant access to their folder. All the other users on the website will not be able to see any of the photos in the Private Album.
This is one of the features which are available to Gold subscription members only. The features of the Private Album feature can be summarised as:

Available only to Gold subscription members
Better control of who sees their images
Assign viewing rights to selected users
Maintain member's privacy and only share the photos member wants with other users
Members can see this new feature is designed to further protect the privacy and to show that PositiveSingles.com take the privacy of members seriously. It aims to make PostiveSingles.com a very safe and secure site and will continue to introduce new features to enhance user experience.
PositiveSingles.com is a completely anonymous and most trusted online dating site for people living with Herpes, HPV, HIV and other STDs all around the world. PositiveSingles.com has been devoted to helping people living with STDs find love and support since 2001.
The website offers kinds of information and support, and some of the issues it provides support for are given below:
Dating is daunting at times, more so when members are positive so it has a section on first date ideas
Forum and blog – PS runs a blog and forum where members can share experiences and knowledge and just get to know each other in a safe and friendly environment
A comprehensive list of over 800 locations where members can receive STD care and support
A section on Inspirational and treatment stories
Qualified counsellor/expert who can advise on STDs, dating, emotional and psychological issues
STD legal information
STD testing centres
PositiveSingles.com is unlike any other dating site. It provides an anonymous and safe environment for meeting people who are in the same situation. PS go well beyond that to provide you with support and information to take care of member's physical, psychological and emotional health. PS provides online dating advice, dating tips for positive singles and it have just launched a new feature, the Private Photo Album.