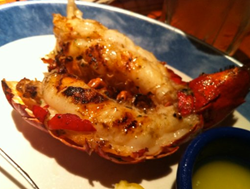 (PRWEB) August 29, 2013
GetMaineLobster.com is in full celebration mode for the 2013 Labor Day weekend and has introduced a new lobster tail recipe in addition to Labor Day Maine lobster specials including a Seacoast Lobster Dinner for Four, a 20 pack of Maine lobster tails, and 24 or 30 packs of live Maine lobsters.
For the Maple Whiskey Sauce, add a half of a cup of Cabin Fever Maple Whiskey and one tablespoon of cider vinegar to a small pot. If this brand of whiskey cannot be located, add one-fourth of a cup of maple syrup to any whiskey of choice. Over medium heat, reduce by half and then remove from heat. Next, slowly add six to eight ounces of cubed butter one cube at a time, making sure each cube is emulsified before adding more. Continue until the butter has been used and the mixture has become a creamy sauce. Season with salt and freshly ground black pepper to taste, set aside and hold warm. In order to best manage the time, make the sauce 15 to 20 minutes prior to grilling the lobster tails.
Prior to grilling the lobster tails, set the grill to high heat and split the thawed Maine lobster tails in half. Next, rub the tails with olive oil and season with salt and pepper. Then, place the tails on the grill shell side down and cook for eight minutes until the meat is opaque and slightly firm. During grilling, brush the tails with the Maple Whiskey Sauce to build flavor. Finally, serve the tails with the Maple Whiskey Sauce or pour the sauce over the tails and enjoy!
Create your own unforgettable Maine seafood experience with GetMaineLobster.com by taking advantage of these Labor Day specials today! Learn more about Get Maine Lobster's wide range of seafood offerings, access lobster and seafood recipes, and view current specials by visiting GetMaineLobster.com or by calling (866) 562-4817. Stay updated and Like us on Facebook or follow us on Twitter For even more lobster news and recipes go to JustAddLobster.com.
About GetMaineLobster.com
GetMaineLobster.com, a division of Black Point Seafood and Black Point Gourmet, hand-selects the finest Maine lobster, seafood and beef products for convenient distribution throughout the United States. Their passion is to make fresh, quality seafood readily available to customers across the country, which is why they buy from only the most trusted, well-established suppliers to ensure that they receive the finest products available.
GetMaineLobster.com was selected out of the more than four million small American businesses served by Chase bank to represent its new Platinum Business Checking product for its 2013 national advertising campaign.