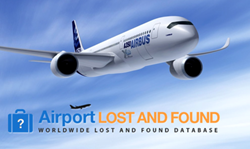 Frequently listed airports are some of the most recognizable in the world, including London-Heathrow and Hartsfield-Jackson Atlanta International
Brooklyn, NY (PRWEB) August 29, 2013
Between June 2012 and June 2013, travelers lost over 10,000 laptops, smartphones, tablets and other personal electronic devices in seven of the largest airports in the world. Airport Lost and Found wants to help travelers recover their lost property.
With its user-generated database, Airport Lost and Found helps travelers reunite with their lost personal technology, potentially saving them the financial and emotional stress of replacing a device or dealing with the loss of personal information and media.
Airport Lost and Found provides attendants, airline employees and security personnel 24/7 access to that database in hopes that a traveler's lost property can be found and recovered. Because Airport Lost and Found keeps items in its database for nearly a year, travelers can rest easy knowing that their lost property notice isn't getting buried on Craigslist or message boards.
By utilizing airport staff Airport Lost and Found is able to increase the success rate of recovering a device by reaching the busy people inside some of the most traveled airports in the world. Frequently listed airports are some of the most recognizable in the world, including London-Heathrow, Hartsfield-Jackson Atlanta International, John F. Kennedy International, LAX and O'Hare lost and found.
But there's another secret: quick action. According to the data protection experts at Credant Technologies, the key to successful recovery of a lost smartphone, computer or tablet is to act immediately.
Airport Lost and Found makes access easy. With both a web and mobile app, the service can help kickstart the reunion between traveler and device whether they're miles from home or using the Wi-Fi on their flight.
Whether they're missing an iPhone left at a security checkpoint or a tablet in the seat-back pouch, Airport Lost and Found has been helping travelers recover their belongings for almost a decade. Backed by a 90-day money back guarantee, the site aims to provide a little peace of mind to those who would rather enjoy their travels than panic.
Lost something? List it online at http://www.airportlostandfound.com.