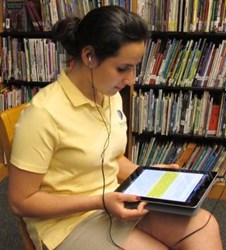 This is an important capability for the many students with print disabilities who use audiobooks to complete in-class reading and need to be able to access them anywhere, anytime.
Princeton, NJ (PRWEB) August 28, 2013
Learning Ally, a nonprofit organization serving 300,000 children and adults across the U.S. who have visual, learning and reading-based disabilities like dyslexia, has released its popular accessible audiobook playback software, known as Learning Ally Audio, for Android OS smartphones and tablets.
Since its initial release in 2011 for Apple's iOS, the app has enabled thousands of users to access Learning Ally's digital library of 80,000 downloadable human-narrated audiobooks for school and home reading. The new Android version greatly increases the number of people with disabilities who can access Learning Ally's audiobook library with the freedom and portability of a mobile device. This is an important capability for the many students with print disabilities who use audiobooks to complete in-class reading and need to be able to access them anywhere, anytime.
"This app significantly rounds out our service offering as many Learning Ally members migrate to tablets and smartphones," says Andrew Friedman, the organization's President and CEO. "With the release of this new app, virtually all of our members can enjoy instant and convenient mainstream access to the audiobooks they need."
Currently in Beta release, the app is compatible with Teacher Ally, Learning Ally's acclaimed classroom audiobook management tool. Teacher Ally enables teachers to maintain personal profiles and bookshelves for each student, track the titles and pages they are reading, and generate reports on their progress to share with parents. As more and more school districts choose to invest in Android devices, adding an app for this platform is critical to meeting the needs of students with print disabilities.
"The release of our Android app continues the exciting revolution going on at Learning Ally," says Paul Edelblut, Learning Ally's Vice President of Programs and Services. "With the proliferation of tablets in education and Android devices at large, this app opens the door to many more schools to benefit from our Teacher Ally platform and the robust data it provides teachers to personalize audiobook learning for all students."
The new Android app maintains a similar look and feel of the iOS version, and allows users to:

Listen to any of the 80,000+ audiobooks from Learning Ally's library on Google Nexus 7, Samsung Galaxy Tab 2 7.0, and Motorola DROID RAZR devices running Android OS 4.1 or higher.
Download audiobooks from their Learning Ally Bookshelf directly to a mobile device.
Navigate through audiobooks by page or chapter.
Adjust the speed of audio playback.
Automatically pick up playback where they last left off.
Create and edit bookmarks to mark important passages.
Play VOICEtext titles from Learning Ally's library, which display text with sentence-level highlighting synchronized with the human narrated audio.
Learning Ally Audio for Android is free to download for Learning Ally members in the Google Play Store as a fully functional beta release.
About Learning Ally™
Founded in 1948 as Recording for the Blind, Learning Ally serves over 300,000 K-12, college and graduate students, as well as veterans and lifelong learners – all of whom cannot read standard print due to blindness, visual impairment, dyslexia, or other learning disabilities. Learning Ally's collection of more than 80,000 digitally recorded human-read textbooks and literature titles – featuring a heavy emphasis on STEM resources – is delivered through internet downloads, assistive technology devices, and mainstream devices like iPhone and iPad, and is the largest of its kind in the world. Thousands of volunteers across the U.S. help to record and process the educational materials, which students rely on to achieve academic and professional success. Learning Ally, a 501(c)3 nonprofit, is partially funded by grants from state and local education programs, and the generous contributions of individuals, foundations and corporations. For more information, visit http://www.LearningAlly.org.