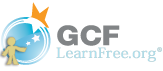 "By continually meeting the changing learning demands of today our team has provided life-improving resources for 4 million people year-to-date for 2013." - Rev. Dennis McLain, president, GCF®
Durham, NC (PRWEB) August 28, 2013
Breaking previous user records, 4 million people have accessed free educational resources at GCFLearnFree.org and GCFAprendeLibre.org since January. Both sites are a service of Goodwill Community Foundation® (GCF®) and provide anyone, anywhere with easy-to-follow lessons in technology, math and English.
Reverend Dennis McLain, president, Goodwill Community Foundation® and Goodwill Industries of Eastern North Carolina says, "Since 2000 we have created opportunities for people around the globe to improve their knowledge. By continually meeting the changing learning demands of today our team has provided life-improving resources for 4 million people year-to-date for 2013."
Over the last 3 years, 11.8 million unique learners have used GCF 20.2 million times for self-improvement. GCF has been providing online learning to Eastern North Carolina, North America and the world since 2000. To learn more about the mission and support of GCF, please visit http://www.GCFcommunityFoundation.org.
ABOUT Goodwill Community Foundation® (GCF®)
GCF® continues to be a leader in an era of change by providing the training required for the emerging world where technology is integrated into everyday life. The mission of GCF® is to create and provide education, employment and life enrichment opportunities regionally, nationally and internationally for people who desire to improve the quality of their lives.
For more information on GCF®, visit us at http://www.GCFGlobal.org.