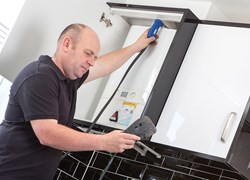 As a landlord, it can be difficult to keep up with all of the repairs and maintenance needed for your properties, not to mention costly.
(PRWEB UK) 29 August 2013
One of the South's longest standing plumbing and heating companies has started a new business aimed at helping local landlords take advantage of Government funding to improve their properties.
Hampshire-based K A Watts, which began trading almost 25 years ago, has formed KAW GreenDeal to drive energy efficiency in the region's housing stock.
Nick Staines, commercial director at KAW, said: "As a landlord, it can be difficult to keep up with all of the repairs and maintenance needed for your properties, not to mention costly."
"For instance, one of the big items that might need looking at is a property's boiler, which is vital for central heating and hot water. We can advise landlords if they qualify for having an inefficient boiler replaced free of charge. The fact is all landlords now need to have an Energy Performance Certificate (EPC) for any property that is to be let or sold."
The EPC provides a rating for the property from A to G, where A is very efficient and G is very inefficient. A recommendation report is also part of the certificate and details what measures could be taken to improve the energy performance of the home.
The Government has set out a timetable which means that from 2016, new rules will compel landlords to review the energy efficiency of their properties. Landlords will have a legal obligation to have an EPC for any property they own and from 2018, it will also become illegal to let a property which has an EPC rating below E.
Nick added: "The good news is that landlords may be eligible for funding to cover the cost of making energy efficiency upgrades to a property. There are two Government funding options which might benefit both landlords and tenants alike: ECO Funding and Green Deal."
ECO funding is a great way to make improvements to a property for free, while helping to bring it in line with new energy efficiency obligations. It is available to cover all or some of the cost of a range of upgrades, including wall insulation, pipe-lagging, draught-proofing and heating system upgrades.
To qualify, tenants need to be receiving certain benefits and have the landlord's permission to undertake any work on the property. It is also available for 'hard to treat' homes, such as period properties and those in more deprived areas.
The Government's Green Deal scheme could help landlords make energy-saving improvements to properties, such as installing new boilers, draught-proofing, loft and wall insulation or even renewable technologies like solar panels.
Green Deal allows upgrades to be made with no upfront charge, with the cost repaid over time by the electricity bill payer, through the estimated savings made on their energy bills.
For more information, visit: http://www.kawgreendeal.co.uk/who-we-help/landlords