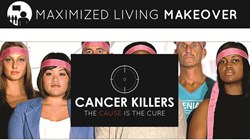 Savannah, GA (PRWEB) August 28, 2013
Crossroads Chiropractic is pleased to announce they are hosting a Maximized Living Makeover convention titled "Cancer Killers: The Cause Is The Cure" October 5, 2013 at 9 a.m. at the Hilton Garden Inn Midtown. Dr. Mark Domanski of Crossroads Chiropractic provides a new approach to ugdr-free health and changes to ensure lifelong wellness.
The Cancer Killers convention will offer attendees invaluable information on cancer and how to make lifestyle changes to prevent this deadly disease. The convention will promote discussion on the conventional information on cancer and standard treatments.
Attendees will learn what cancer really is, and how the human body is naturally programmed to kill cancerous cells and the dangers of conventional treatment methods. The workshop will offer information on how attendees can learn how their lifestyle choices can be altered to significantly diminish their chances of cancer development. Attendees will also learn the "Don't Get It" plan which is a practical set of steps to prevent cancer.
Registration for the convention is now open. Those interested can make reservations by calling (912)353-7611. It is being held on October 5, 2013, beginning at 9 a.m. in the Hilton Garden Inn Midtown, 5711 Abercorn Street, Savannah, GA.
About the company:
At Crossroads Chiropractic, patients can expect a highly trained doctor and staff who has one goal in mind: to help them and their family reach and maintain their health potential. Maximized Living doctors are trained to detect and eliminate root causes of health problems that patients may be suffering from now or be headed towards in the future.
Following an evaluation of overall health, the doctor will discuss a plan for the patient and their family to obtain maximum wellness. Crossroads Chiropractic will make getting well possible through weight loss events, walk/run clubs, recipe nights, advanced nutrition and exercise workshops and more, all designed to help patients easily and effectively apply the 5 Essentials of Maximized Living to their life.
Crossroads Chiropractic provides state-of-the-art chiropractic care, including spinal alignments, family care and corrective rehab. For more information, please visit their website, http://www.drdomanski.com.