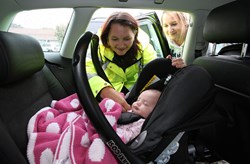 Cambridgeshire (PRWEB UK) 29 August 2013
Results from the 16 Good Egg In-Car Child Safety clinics conducted so far highlight that out of 242 seats checked, 121 (50%) were fitted incorrectly of which 19 were incompatible to the vehicle or child (8%), 26 had major faults (11%) and 75 had minor faults (31%).
The clinics allow parents and carers in Cambridgeshire the opportunity to get their child car seat checked by an expert for free and ask the expert questions relating to child car seat safety.
Matt Staton, Lead Road Safety Officer for Cambridgeshire County Council, said: "In speaking to parents at these events, it is evident that a lack of awareness is a big problem, with many not realising that car seats do not necessarily fit all cars, or not understanding how tightly the seat or harness should be fitted. This shows why a programme of checks is so important.
"The aim of this campaign in Cambridgeshire is two-fold: firstly, to correct any fitting errors and ensure parents leave the events able to check and re-fit the seat themselves, and; secondly, to arm parents with information about child car seats which they can use in purchasing new seats and pass on to friends and family."
Following these worrying results, Good Egg Safety and Cambridgeshire County Council would like to call on all parents and carers across Cambridgeshire to get their child car seats checked by an expert. Parents and carers can also go into a draw to win a brand new Britax child car seat when they visit one of the below clinics on:

Emma Norton, Good Egg Safety Car Seat Expert, said, "As a trained car seat expert for Good Egg Safety, it shouldn't really shock me, the number of children incorrectly restrained in their child car seats but, it makes me very happy to help parents get it right. The majority of children checked have the two most common problems found and usually very easy to rectify, a loose fitted restraint and loose fitting harness can cause a child horrendous injuries.
"I urge every parent to protect their child with simple checks every journey. If you are concerned or need reassurance that you are fitting/using a child car seat correctly, please come and see us at a clinic near you."
The clinic checks take less than 10 minutes and parents and carers will also receive quality advice from the expert.
If you would like more information on Good Egg In-Car Child Safety and the clinics, please visit goodeggsafety.com, download the smartphone app or follow Good Egg Safety on Facebook and Twitter.