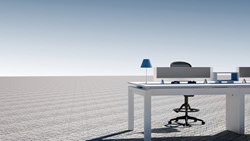 Greg makes convincing statements that allowing employees to choose their own workspaces will help drive innovation and result in the production of better work. – Deborah Herr, Marketing Designer
New York, NY (PRWEB) August 29, 2013
Innovant recently attended an IIDANY Facilities Forum titled "The Evolving Workplace: Change or Adapt?" that initiated conversations about the future of the workplace. Greg Lindsay, Contributing Writer for Fast Company, was among the workplace innovators who participated.
Greg's insights were particularly resonant since Innovant has referenced his New York Times article, "Engineering Serendipity," on its blog, The New Workplace. This reference summarized Greg's commentary on workplace policies by the likes of Yahoo! and Google, describing how a company can boost employee creativity and productivity by engineering social interactions.
Greg agreed to an interview with Innovant, offering intriguing theories and relevant anecdotes about 21st century ways of work and places for work. These theories include visions of what Greg calls "the blurring of the office and the city" as a way to increase productivity and enhance the quality of work produced by knowledge workers.
"Greg is a true thought leader in the industry. He makes convincing statements that allowing employees to choose their own workspaces will help drive innovation and result in the production of better work." – Deborah Herr, Marketing Designer at Innovant
He suggests that this blurring will provide employees with inspiring experiences, as well as a range of environments and work modes to choose from – each of which will be particularly suited to the type of work they need to complete.
For the full interview, which will be published in two parts, please visit http://innovantblog.com.
About Innovant: Innovant is a renowned industry leader creating intelligent, adaptable furniture for the modern workplace. With a flagship showroom located in New York, Innovant maintains a worldwide network of offices and showrooms spanning North America, Europe and Asia. Innovant's substantial contributions to office and trading floor environments not only stem from its superior products, but also from the close collaboration Innovant supplies to clients, their architects and designers.
For more information about Innovant or its products, please visit http://www.innovant.com.