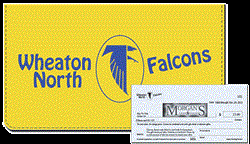 Our school PTA has been dong the Gift-checkbook fundraiser for four years and we like it because it provides real value to our supporters who buy a book while enabling us to support local merchants who generously support our community schools.
(PRWEB) August 30, 2013
As school budgets are being cut across the country, many special activities and programs are taking a big hit. While fundraising has always been an important activity of PTO/PTA organizations, the pressure is on to find ways to raise more funds or risk elimination of programs. The tough economy has led both local merchants and school supporters to think twice about supporting and spending money on fundraisers they don't value, which compounds the problem of keeping school programs alive. As traditional fundraisers simply don't seem to work anymore, BoosterShot has developed unique, high value fundraising programs as a solution.
The BoosterShot Gift-checkbook fundraising program enables school PTO/PTA organizations to raise a minimum of $7,500 through sales of a unique, custom to the school checkbook filled with valuable gift-checks from local restaurants and businesses. The Gift-checkbook is comprised of up to 30 same as cash offers (not low value coupons) from local merchants that the school chooses. BoosterShot does all the work and the school supports local merchants who support them in a meaningful way. Merchants like the targeted advertising with no up front cost or risk. And, supporters respond enthusiastically to purchase Gift-checkbooks as they receive a value-laden Gift-checkbook for their money.
For some school organizations, such as athletic booster clubs, our sports oriented products may be the fundraiser of choice. Football, Baseball, Basketball and Hockey related fundraisers combine the best of two worlds: a sweepstakes ticket with cash prizes and a mini-version of the popular Gift-checkbook. School supporters gain value from this fundraiser and have fun with the sweepstakes. Since there are sports-related fundraisers that cover each of the school sports seasons, sports teams and booster clubs can sell during any sports season.
Fundraising consultants from BoosterShot can help each school PTO/PTA determine what's right for their needs and develop a fundraising plan. For a consultation or to request information and samples, contact BoosterShot.
About BoosterShot
BoosterShot is a premier provider of high value, community based fundraising programs for schools, youth sports and non-profit organizations. Every fundraising campaign we produce is unique and tailored to meet the specific needs of the fundraising organization while extending reciprocal support to community merchants. Everyone wins with BoosterShot. For more information, visit the BoosterShot website at http://www.goboostershot.com/.