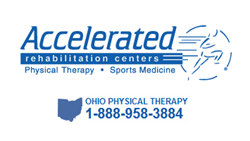 Accelerate Your Recovery With Accelerated
Columbus, OH (PRWEB) August 30, 2013
Accelerated Rehabilitation Centers, a leading physical therapy and sports medicine specialist with therapy locations throughout the mid-west and Arizona, is proud to be one of Ohio's limited providers of Performance Dynamics, Inc.'s scientifically developed ASTYM® physical therapy treatment.
Surgical procedures, injuries and overuse of a body's soft tissues can often result in the formation of scar tissue. ASTYM physical therapy is a highly regarded therapeutic treatment which helps diminish restrictive scar tissue and promotes regeneration of healthier soft tissue. ASTYM® is a noninvasive therapy performed by a certified physical therapist, and is used to treat numerous mobility issues and is frequently recommended to patients who have found little success after trying other types of physical therapies.
The benefit of ASTYM® physical therapy versus other therapeutic solutions is ASTYM®'s rehabilitation process safely scales down pain and discomfort while restoring movement to rigid muscles, tendons, joints and ligaments without the need of invasive surgical procedures or medication.
About Accelerated Rehabilitation Centers:
Accelerated Rehabilitation Centers is a physical therapist-owned and operated rehabilitation company that specializes in sports medicine and physical therapy services to help patients restore, maintain and improve their physical strength, performance skills and levels of function.
Accelerated offers people in Ohio the opportunity to receive a free injury screen and consultation by requesting a certificate online or by calling 1-888-958-3884 and scheduling a consultation at one of Accelerated's Ohio physical therapy locations conveniently located throughout Ohio in Franklin, Granville, Hilliard, Middletown, New Albany, Powell, St. Mary's, Sunbury and Westerville.
Accelerated's Complimentary Ohio Injury Screen Includes:

Complimentary physical assessment by a licensed physical therapist
Thorough explanation of findings
Instructions for exercises
Explanation of self-care activities
Injury prevention consultation
Recommended options for treatment and course of care
Physician referral and physician scheduling assistance – if needed
Quitting has never been in your vocabulary; pain shouldn't be either – Accelerate your recovery with Accelerated.
Accelerated's Physical Therapy Ohio Locations Include: Franklin, Granville, Hilliard, Middletown, New Albany, Powell, St. Mary's, Sunbury and Westerville.
For further information, please visit – http://www.PhysicalTherapyOhio.com or call toll-free 1-888-985-3884.
*ASTYM® is a trademark of Performance Dynamics, Inc. The use of the ASTYM® trademark does not imply an affiliation between Performance Dynamics, Inc. and Accelerated Rehabilitation Centers, Ltd.