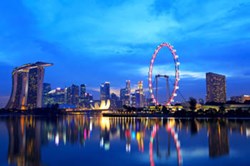 Visitors can actually consider budget hotels and hostels that are located near the F1 racetrack.
Singapore (PRWEB) August 29, 2013
The 2013 Singapore Formula One (F1) Grand Prix scheduled to take place from 20 to 22 September 2013 will be Asia's most anticipated and biggest motor-sports event of the year. As the first and only night street race in the F1 Championship draws near, demand for hotels are expected to rev up a few notches.
For the first time, the upcoming F1 Singapore 2013 Grand Prix race event will stage a Closing Concert headlined by Canadian pop-sensation Justin Bieber and Owl City. This year's entertainment highlights also include a stellar line-up of mega-stars such as Rihanna, Big Bang (Korea), The Killers and Tom Jones.
Against such backdrop, finding accommodation in Singapore over the F1 race weekend can be a challenge. High demand from both motorsports enthusiasts and concert goers will drive up hotel room rates. During this F1 season, it will not come as a surprise that most hotels in Singapore may charge up to two times the usual rates.
Danny Lee, founder of BudgetHotels.sg, commented: "With the rates of trackside hotels doubling or even tripling during the F1 season, some F1 fans maybe priced out of action. For this reason, visitors can actually consider budget hotels and hostels that are located near the F1 racetrack. These cheaper accommodation options are also within easy reach of MRT train stations, shops and eateries. However, I do strongly advise racing fans to book early as these cheaper rooms get snapped up pretty fast."
To help cost-conscious F1 and non F1 fans, BudgetHotels.sg has curate a list of recommended budget hotels and hostels near the F1 circuit in Singapore.
The budget hotels listed are mostly located in downtown Bugis district and are within 10 to 15-minute walk or one train stop to race venues such as Gates 3, 7 and the Stamford Grandstand. The recommended boutique hostels are also mostly located in Bugis area and Clarke Quay that is about 15-minute walk to Gate 5, Turns 12 and 13 of the street circuit. The hostels come with amenities such as free WiFi and personal locker, and some even come with female-only sections.
To find out more about the list of affordable hotel accommodation near the Singapore F1 circuit, please visit http://www.budgethotels.sg/budget-hotels-near-f1-circuit-in-singapore/.
About BudgetHotels.sg
Created specially to cater to budget travelers looking for cheap Singapore hotels, BudgetHotels.sg can help travelers enjoy the full sights and sound while they stay for less in Singapore. The site brings together a unique compilation of affordable hotels in Singapore with key information like the location of nearby MRT train stations, food outlets, shopping options and low-cost sightseeing tips.